In today's news: Shanghai Symphony Orchestra unveil plans for 2018-19 season. NHS marks its 70th anniversary with music. RNCM 2018 Gold Medal winners. Pianist Martha Argerich honoured by city of Hamburg. Steven Sloane to leave Bochumer Symphoniker at the end of 2021 season. State sets aside 80 million € for renovation of National Theatre in Mannheim. Australian World Orchestra to tour in India once again.
Rhinegold
Shanghai Symphony Orchestra announces 2018-19 season
Shanghai Symphony Orchestra (SSO) has announced its 2018-19 season, celebrating ten years with Long Yu as music director.
The Telegraph
How the sounds of the NHS became a symphony
Ivan Hewett talks to the creatives marking the institution's 70th year in an unusual way.
The Times
Singer Claire Rutter 'too English for Royal Opera'
Claire Rutter can give a glorious display of bel canto and perform elegant legato, according to critics. But the soprano from South Shields is "too English" for Covent Garden, a remark she says was made by the Royal Opera's casting director after her audition for Tosca.
RNCM
The RNCM held its Gold Medal Competition on Saturday 23 June featuring 10 of the College's finest performers and four of its leading young composers, who wrote new works for string quartet.
Classic FM
'I quit banking to become an opera singer' – rising star Nadine Benjamin
Soprano Nadine Benjamin left school at 16 to become a city banker, and is now one of the UK's most exciting new opera stars. Here's proof that it's never too late to start a career in music.
Limelight
Australian World Orchestra announces second India tour
The Australian World Orchestra has announced a second tour to India, following the success of its 2015 tour under the baton of acclaimed maestro Zubin Mehta.
klassik.com
Hamburg ehrt Pianistin Martha Argerich
Die Pianistin Martha Argerich ist von Hamburgs Erstem Bürgermeister Dr. Peter Tschentscher und Kultursenator Dr. Carsten Brosda im Rathaus empfangen worden und hat sich in das Goldene Buch der Stadt Hamburg eingetragen.
Musik Heute
GMD Steven Sloane verlässt Bochumer Symphoniker
Der Generalmusikdirektor der Bochumer Symphoniker, Steven Sloane, will sich 2021 zurückziehen. "Das Ende einer Ära kündigt sich an", teilte eine Sprecherin des Orchesters mit.
NMZ
80 Millionen vom Bund für Nationaltheater Mannheim anvisiert
Der Bund wird die Generalsanierung des Nationaltheaters Mannheim voraussichtlich mit rund 80 Millionen Euro unterstützen.
El País
Dudamel despide a su maestro Abreu al frente de una orquesta 'all star'
El director venezolano homenajea a su mentor, fallecido en marzo, con dos conciertos en Chile.
Twitter
We're delighted to announce the appointment of @AilieRobertson as sound's next Composer-in-Residence. A multi-award winning composer, Ailie is enthusiastic and dedicated to introducing new audiences to new music. We look forward to working with Ailie over the next 3 years.

— soundscotland (@soundscotland) June 27, 2018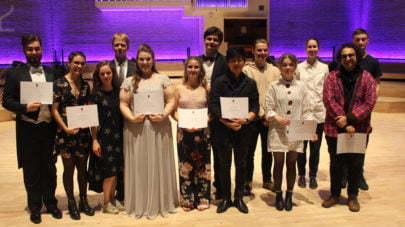 RNCM 2018 Gold Medal winners