In today's news: Street musicians are to be paid with contactless cash, a piece on Spotify and censorship, King's College appoint a new director of music, new YCAT artists are announced and in Washington D.C. 10 Stradivarius instrument are brought together. Sir Simon Rattle says farewell to Berlin, in Halle this years Händel Festival was opened and there is new research about the Spanish roots of Beethoven.
The Times
Where will Spotify's censorship end?
The announcement this month that Spotify had instituted a new policy to deal with "hate content and hateful conduct" led some to ask: "Where will this end?"
The Telegraph
Buskers to be paid with contactless cards under world's first scheme of its kind 
Busk in London, a Mayor of London initiative, has partnered with technology company iZettle to hand performers readers that allow them to set a fixed amount of money to donate and accept contactless payments from passers-by.
Link between personalities and music taste unearthed: Opera lovers more likely to be imaginative, study finds
People who like easy-listening music are likely to be talkative and energetic, while opera lovers are more insightful and imaginative, according to scientists.
Choir & Organ
King's College appoints new director of music
King's College, Cambridge has appointed Daniel Hyde as new director of music, to take office in October 2019. He will succeed Stephen Cleobury, who has held the post since 1982.
Classical Music
The Young Classical Artists Trust (YCAT) has selected three new artists for representation following a final round of auditions at Wigmore Hall.
Early Music Today
Academy of Ancient Music announces new Hogwood fellow
The Academy of Ancient Music (AAM) has announced that Sandy Burnett is the new Hogwood fellow for 2018-19.
The Strad
Ten Stradivarius instruments brought together for D.C. concert
Washington DC audiences are well acquainted with the concerts presented at the Library of Congress as well as the famed ensemble of Stradivari instruments presented to the Library by Gertrude Clarke Whittall.
Der Tagesspiegel
Bilanz aus 16 Jahren: Simone Rattle dirigiert in der Waldbühne eines seiner letzten Konzerte als Chef der Berliner Philharmoniker.
Musik heute
Händel-Festspiele Halle mit Feierstunde eröffnet
Mit der traditionellen Feierstunde am Händel-Denkmal auf dem Markt in Halle (Saale) haben am Freitag die Händel-Festspiele in der Geburtsstadt des Barockkomponisten begonnen.
BR-Klassik
Ausgezeichnete Streichinstrumente
Das oberbayerische Mittenwald blickt auf eine lange Geigenbauhistorie zurück. Alle vier Jahre findet dort ein Wettbewerb für die besten Violinen, Violen und Violoncelli statt. Zahlreiche Preise gingen an Werkstätten in Cremona – ebenfalls eine Bastion des Instrumentenbaus.
El País
La abuela española (y alcohólica) de Beethoven
El libro 'España en los grandes músicos' explica la influencia de María Josefa Poll en el interés del compositor por la Península.
The New York Times
Interest Grows in a Master of Choral Mystery and Power
The composer Frank Martin (1890-1974) wrote choral works that are perhaps his crowning achievements, including the Mass for Double Choir.
Twitter
Spotify has it:
the i love #GDPR playlist pic.twitter.com/tuoO2nbwm1

— Daniel Klaus (@daniel__klaus) 26. Mai 2018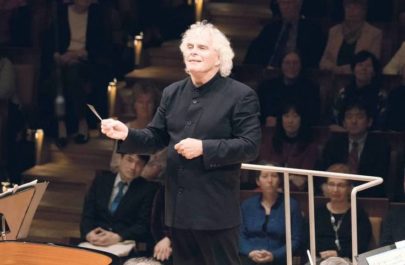 Sir Simon Rattle (c)Monika Rittershaus