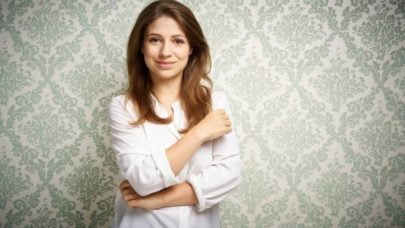 Dalia Stasevska has become the first woman to be given a conducting position with the BBC Symphony Orchestra.
The 33-year-old, who has only been conducting for four years, will be the ensemble's principal guest conductor, a role that has been vacant since 2006.
Praised as a "brilliant musician" who provides "subtle guidance", she made her debut with the BBCSO in May 2018.
The Finnish musician, in a statement, said she was "thrilled" to be joining the London-based group. "From when we first met in May 2018, I felt directly a mutual connection with the musicians. The BBCSO is a very inspiring, energetic orchestra with a huge range of colours in its sound, and I am looking forward to working together over the next few years, exploring a wide range of music."
Stasevska is the second woman to conduct a BBC orchestra – joining the BBC National Orchestra of Wales's Xian Zhang, who was appointed in 2015. Sweden's Sofi Jeannin is also the chief conductor of the BBC Singers.
Born in Kiev, Ukraine in 1984, Stasevska moved to Finland at the age of five, and started studying violin when she was 10.
Paul Hughes, director of the BBCSO, welcomed Stasevska to the company, saying: "She will bring an extraordinary musicianship that speaks directly from the heart to musicians and audiences alike, and her appointment ushers in an exciting new chapter in the orchestra's life."
She makes her debut with the orchestra in her new role at the Proms in July.
[via BBC]
---
Ahead of his performance at Cadogan Hall, the violinist shares his knowledge.
1. Practise slowly
This is the starting point for everything. There are times when something falls  easily under the fingers, and you feel you can play it quickly no problem, but sometimes when you're in a concert under pressure, the foundation may not feel as solid as you would like – and that's where slow practice comes in. I start the day playing a very slow scale. It helps to rewire the brain and also, focusing on just that simple thing calms my mind down.
2. Concentrate. 
Even if you're practising slowly, it's easy to go onto autopilot and then, when you're just going through the motions, you can easily acquire bad habits. It's better to practise less and really concentrate on what you're doing. I personally don't tend to practise for longer than an hour at a time. After that my focus starts to wane.
3. Be consistent.
At school, I used to cram at the last minute for exams, and in that context you can kind of get away with waffling with a minimal amount of knowledge. But there's nowhere to hide on the violin: either you've got the foundation or you don't. So rather than cramming in a massive amount of practice just before a performance, it's better to practice less but consistently in order to give yourself time to absorb all the new skills that you're working on.
4. Prioritise interpretation
If you fixate too much on technique you miss the point completely: trying to a convey a composer's message and to create a coherent musical structure out of a piece. Also, I find that if you think of a technical problem from a musical perspective, sometimes you're able to forget about the mechanics of it and fit it into a performance in a more instinctive way.
5. Exaggerate
It's shocking sometimes, when I watch myself on camera, to see the discrepancy between what I thought I was doing and what I was actually doing. And that's on a camera that's sitting right in front of you. For someone sitting further back in the hall, the effect is diminished even more. So you have to really go much further than you think – when accentuating dynamics; when sustaining with the bow – and make an extra effort to convey your interpretation.
[via The Strad]
---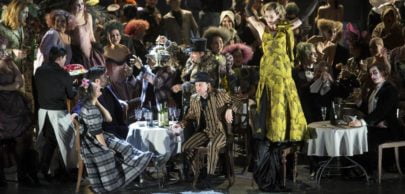 Jung, unbekümmert, auf die eigene Selbstinszenierung bedacht, als gäbe es kein Morgen: Heute nennt man's Hipster, früher "La Bohème". Wie zeitlos Puccinis berühmteste Oper ist, kann man in Berlin bestaunen.
Sie können vor Kraft nicht gehen. Sie produzieren Kunstwerke, Pointen, Abenteuer, wo immer sie gerade stehen. Sie schöpfen derart aus dem Vollen, dass sie sogar bereit sind, ihre literarischen Manuskripte zu verfeuern, wenn es in ihrer Dachmansarde zu kalt ist und sie nichts anderes haben, um den Kanonenofen zu heizen.
Denn bei allem jugendlichen Furor, bei allem euphorischen Lebenshunger sind sie doch auch arm. Sind nicht Dandys oder Flaneure aus gutem Hause, sondern frühe Hipster ohne nennenswerten sozialen Hintergrund: allzeit bereit, sich auf verschwenderische Weise neu zu erfinden, aber eben ohne materiellen Rückhalt, auf den sie übrigens auch pfeifen.
Young, unconcerned and mindful of their own self-staging, as if there was no tomorrow: today's name is Hipster, formerly "La Bohème". How Puccini's most famous opera can be admired in Berlin.
They produce works of art, punchlines and adventures wherever they happen to be. They are so exhausted that they are even ready to burn their literary manuscripts when it is too cold in their attic, and they have nothing else to heat the iron stove.
For with all the youthful furor, with all the euphoric hunger for life, they are also poor. Early hipsters without significant social background: always ready to reinvent themselves in a lavish way, but just without material backing.