Classical News
In our news today, pianist and conductor Daniel Barenboim comments on Brexit, a new documentary about Yo-Yo Ma & Germany shows London how to raise money for charity through guest lists and gigs. Also, Dulcinea Quartet and violist Stephen Upshaw receive Trinity Laban Fellowship awards & London Musical Theatre Orchestra will be launched as a dedicated showtunes concert ensemble.
The Guardian
Support Act's £1 challenge: how music lovers in London can help refugees
Germany's Plus1 campaign has already raised €40,000 for charity thanks to donations from people on guest lists at clubs – now gig-goers in the UK capital can pitch in.
Classic FM
Top conductor Daniel Barenboim issues a call for European patriotism after Brexit
The maestro and Music Director of Berlin State Opera has expressed his sadness at the United Kingdon's decision to leave the European Union.
International Arts Manager
Yo-Yo Ma: star of stage and screen
Yo-Yo Ma can now truly say he is a star of both stage and screen, thanks to a new documentary that takes his Silk Road Ensemble as its subject. The Music of Strangers: Yo-Yo Ma and the Silk Road Ensemble follows the travels, travails, and triumphs of the ensemble's rotating cast of 50-plus musicians as they tour the globe.
Irish Times
Classical music: Glaring gaps in a celebration of Irish composers since 1916
Composing the Island is quite simply off the scale when it comes to the celebration of Irish composers. The festival, which will run from September 7th-25th, extends to seven orchestral concerts and 20 concerts of vocal, chamber, instrumental and choral music.
The Strad
Dulcinea Quartet and violist Stephen Upshaw receive Trinity Laban Fellowship awards
London conservatoire Trinity Laban has awarded 2016-17 Richard Carne Junior Fellowships to the Dulcinea Quartet (pictured) and American violist Stephen Upshaw.
Wesley Collins appointed Cleveland Orchestra principal viola
Wesley Collins has been appointed principal violist of the Cleveland Orchestra from the 2016-17 season. Collins replaces Robert Vernon, his former professor at the Cleveland Institute of Music, who retires from the orchestra at the end of the 2016 season after 40 years – the longest tenure of any string principal in the orchestra's history.
The Stage
London Musical Theatre Orchestra to launch as dedicated showtunes concert ensemble
A professional orchestra dedicated to performing musical theatre scores is to launch later this year, backed by leading figures including composers Howard Goodall, Stephen Schwartz and Alan Menken.
Classical Music Magazine
Applications open for Opera Awards Foundation bursaries
Grants of up to £5,000 are available to aspiring operatic artists – including singers, conductors, répétiteurs, directors and designers – who need further training or other assistance in the development of their careers in opera.
Sudbury.com
SSO's new conductor one of only two women to lead a Canadian orchestra
Sudbury Symphony Orchestra's new maestra, Mélanie Léonard, is only one of two women in the country and one of about a dozen internationally to lead an orchestra. Léonard was revealed as SSO's new musical director at a June 28 press conference.
BBC News
Elvis guitarist Scotty Moore dies aged 84
Pioneering rock guitarist Scotty Moore, who was a member of Elvis Presley's original band, has died aged 84. He died in Nashville on Tuesday after several months of poor health.
klassik.com
Verloren geglaubte Werke von Gaspare Spontini in Belgien entdeckt
In der Bibliothek des Schlosses Ursel im belgischen Hingene sind vier handschriftliche Partituren des Komponisten Gaspare Spontini (1774-1851) gefunden worden.
BR KLASSIK
Streit um Stammstrecke – stört Baulärm die Gasteig-Konzerte?
Münchner Oberbürgermeister Dieter Reiter verbietet Klage gegen zweiten S-Bahn-Tunnel
Musik heute
Staatsoper Hamburg: Ralf Klöter wird Geschäftsführer
Ralf Klöter wird neuer Geschäftsführender Direktor der Hamburgischen Staatsoper. Der 51-jährige Betriebswirt übernehme die Position zum 1. August 2017, teilte die Hamburger Kulturbehörde am Dienstag mit.
Twitter
Classical Music News @CIassicalMusic Roundhouse executive producer Nicola Thorold dies aged 51 http://dlvr.it/LgfWgC  #ClassicalMusic
Royal Conservatory @the_rcm On music, starting over, and the courage it takes to be yourself
Help Musicians UK @HelpMusiciansUK .@joinencore is a networking tool for musicians to get more gigs. Check it out http://fal.cn/2RK5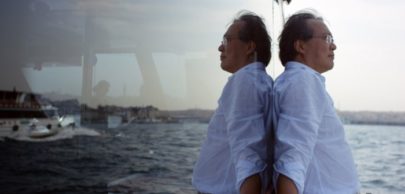 Photograph: International Arts Manager