In today's news: Semperoper in Dresden to pay out 350,000€ to Serge Dorny. Dr. Dre hit with large legal pay out order over Beats headphones. Spotify to extend live performance streaming service. Piano lessons improve language ability as much as reading. Loud music in restaurants can make people choose unhealthy option. Bamberg Symphony continues tour in Japan. Association of British Orchestras' Sirens scheme to promote women composers.
Rhinegold
Scheme to promote women composers returns for second year
The Association of British Orchestras' Sirens scheme has announced its second year of awards for projects that raise awareness of historic women composers in orchestral programming.
Rhinegold
Tenebrae to give American choral music concert
Tenebrae are to give a concert of American choral music, as part of St John's Smith Square's Americana '18 series.
Limelight
Piano lessons improve language ability as much as reading, study finds
A study of four to five-year-olds found piano training improved certain aspects of language development as much as – and in some areas more than – reading instruction.
Telegraph
Watch Madama Butterfly from Glyndebourne 
Watch Glyndebourne Festival Opera's critically acclaimed production of Madama Butterfly for free on the Telegraph website.
BBC News
Dr Dre hit with $25m bill for Beats headphones
Dr Dre and music mogul Jimmy Iovine have been ordered to pay $25.2m (£19.2m) to a former partner in their headphone company, Beats.
Rolling Stone
The Biggest New Artist on Tour in 2018 Is… Spotify
Streaming service is turning playlists into tours as it takes on more of the music industry
Music Week
'It is absolutely a hot issue for the industry': PRS For Music's Paul Dilorito on how metadata can grow the biz
PRS For Music likes to think of itself as being at the cutting-edge of technology, so it's understandably proud of its new deal with Swedish metadata platform Auddly.
klassik.com
Speis & Trank II: Laute Musik in Restaurants verführt zu ungesundem Essen
Amerikanischen und schwedischen Forschern des Muma College of Business in Florida zufolge beeinflusst die Lautstärke der Hintergrundmusik in Restaurants die Auswahl des Essens.
MDR
Semperoper Dresden: Einigung im Fall Dorny
Im juristischen Streit zwischen dem Opernintendanten Serge Dorny und dem Freistaat Sachsen haben sich beide Seiten auf einen Vergleich geeinigt. Wie das sächsische Kunstministerium am Freitag in Dresden mitteilte, wird Dorny eine Zahlung von 350.000 Euro bekommen.
SWR
Seelennahrung für Jung und Alt
"Wenn ältere Menschen nicht mehr so mobil sind, um ins Konzert zu gehen, dann müssen wir uns eben bewegen", findet Hanno Dönneweg, Solo-Fagottist im SWR Symphonieorchester. Er und Musikvermittlerin Jasmin Bachmann brachten Kinder und Senioren mit Musik außerhalb des Konzertsaals zusammen.
Platea
La Sinfónica de Bamberg, de gira por Japón con su titular Jakub Hrůša
Desde el pasado día 25 de junio la Sinfónica de Bamberg está de gira por Japón, en una tournée que incluye cuatro conciertos en algunos de los principales escenarios nipones.
Twitter
#Today in 1824 13-year-old #Liszt performs a new Piano Forte invented by Sebastian Erard, at Drury Lane London #MusicHistory #classicalmusic pic.twitter.com/YiJfaHVTgM

— Music History (@today_classical) June 29, 2018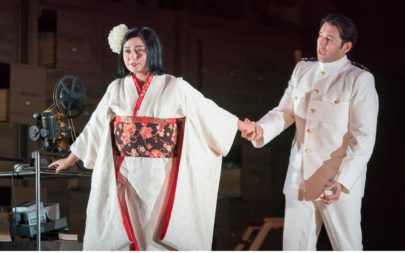 Olga Busuioc and Joshua Guerrero in Madama Butterfly (c) Alastair Muir