In today's classical news Muhal Richard Abrahms died at age 87, Chicago Symphony's deficit widens by $300,000, Sainsbury's launches own-brand vinyl albumsand and 2018 Opera News Awards to honour stars of the stage.
NPR
Muhal Richard Abrams, a pianist and composer of staunch independence and sweeping influence, inseparable from his role as a founding father of the Association for the Advancement of Creative Musicians [AACM], died on Sunday at his home in New York City. He was 87.
Chigago Business
Chicago Symphony's deficit widens by $300,000
The Chicago Symphony Orchestra Association posted an operating deficit of $1.4 million for fiscal 2017, compared to deficit of $1.1 million the year prior. The association, the governing body of the Chicago Symphony Orchestra, released 2017 financials at its Nov. 1 annual meeting, held at Symphony Center.
Broadway World
Orpheus Chamber Orchestra With Cellist Truls Mork present World Premiere By Shuying Li
Orpheus Chamber Orchestra continues its 2017-2018 season at Carnegie Hall with a performance featuring Norwegian cellist Truls Mørk in Shostakovich's first Cello Concerto and the world premiere of Shuying Li's Out Came the Sun, inspired by the profound and transformative experience of postpartum motherhood.
BBC News
Instruments for Kids project seeks old music equipment
A national music project to get people to hand over their old and unused instruments to children is being launched. A pilot project earlier this year saw 50 instruments brought back into use after being donated by AMs and staff at the Welsh assembly and government.
The Guardian
Supermarket swing: Sainsbury's launches own-brand vinyl albums
Store to release compilation albums as it looks to consolidate its position as one of the largest vinyl sellers in the UK.
Evening Standard
A new exhibition celebrates groundbreaking modernist opera 'Four Saints in Three Acts'
Gertrude Stein's opera featured an all-African American cast and was the first opera to open on Broadway.
Opera News
2018 Opera News Awards to honour stars of the stage
This year's honorees—conductor William Christie, mezzo-soprano Fiorenza Cossotto, tenor Vittorio Grigolo, soprano Hei-Kyung Hong, and soprano Sonya Yoncheva — will be celebrated at a black-tie gala celebration on April 22nd, 2018 at the Plaza Hotel in New York City.
Pizzicato
Concerti
Noch bis zum 17. März 2018 kann man bei den Internationalen Tanzwochen Neuss einzigartige Choreografien aus der ganzen Welt bewunder.
Musik Heute
Barenboim gibt am 75. Geburtstag Benefizkonzert
Der Dirigent und Pianist Daniel Barenboim gibt an seinem 75. Geburtstag ein Benefizkonzert für den Musikkindergarten Berlin.
Klassik.com
Logo des Telemann-Jubiläums 2017 erhält Design-Preis
Das Logo für das Telemann-Jubiläum 2017 gehört zu den Gewinnern des German Design Award 2018 in der Kategorie "Corporate Identity".
Mundoclassico
Ha fallecido el compositor sueco Ingvar Lidholm
El compositor sueco Ingvar Lidholm (Jönköping, 1921) falleció el pasado 17 de octubre a los 96 años de edad. Alumno de Hilding Rosenberg (1943-1945), Natanael Berg y Tor Mann, se formó simultáneamente como compositor e intérprete de violín, viola, violonchelo y contrabajo.
Platea Magazine
Múnich tendrá una nueva sala de conciertos en la temporada 2023/2024
La ciudad de Múnich dispondrá de una nueva sala de conciertos para la temporada 2023/2024, reemplazando al Gasteig, espacio cuestionado ya desde su edificación y que nunca ha terminado de convencer a las dos orquestas allí residentes, la Filarmónica de Múnich y la Orquesta de la Radio de Baviera.
France Musique
En Russie, une ville annule le déplacement d'une statue de Tchaïkovsky
La ville de Kline, où le compositeur a vécu et travaillé, souhaitait reléguer sa statue en périphérie de la ville et la remplacer par une autre, baptisée Le bouclier de bronze. Mais devant le tollé, la municipalité a fait marche arrière.
Twitter
nmz @musikzeitung Pianist Lang Lang hofft auf Comeback im Sommer 2018 https://goo.gl/fb/Zpoizp
Musik @Musik_heute Heute Pianist @lang_lang kündigt in der @DIEZEIT Comeback für nächsten Sommer an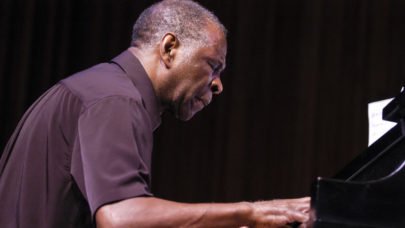 The late pianist and composer Muhal Richard Abrams, performing at Lincoln Center's Alice Tully Hall in New York in 2004 © Jack Vartoogian/Getty Images