Classical News
In our news today, Russia, Spain, and Belgium come together at the Cadogan Hall in London for the 10th Zurich International Orchestra Series, Dale Henderson plays Bach in the subway & Paul MacAlindin talks about his time with the National Youth Orchestra of Iraq. Also, South Africa's leading opera house has been accused of financially exploiting 12 singers.
International Arts Manager
Russia, Spain and Belgium come together for 10th Zurich International Orchestra Series
Famed London concert venue Cadogan Hall is readying itself to present 16 concerts, performed by 11 international orchestras, supported by a stellar cast of conductors and critically-acclaimed soloists, for the 10th Zurich International Orchestra Series series kicking off later this month.
The DePauw
"Bach in the Subways" founder revives classical music through spontaneous, live concerts
Instead of the screech of brakes, some subway riders have been greeted to the sounds of Bach thanks to Dale Henderson. Classical music being played in unclassical places is the mentality of Henderson, a musician who will be performing at Music on the Square tonight at 7:30 pm.
Deutsche Welle
How classical music awoke young Iraqis' spirits
Classical music not only boosted war-trodden young Iraqis, it also affected the country's politics, says conductor Paul MacAlindin. He tells DW about his time with the National Youth Orchestra of Iraq and his new book.
The Guardian
Sheku Kanneh-Mason: 'Classical music isn't elitist – the problem is it's expensive'
It's an understatement to say that Sheku Kanneh-Mason has had a busy few months. In May, the 17-year-old cellist was crowned BBC Young Musician. Only a few days later, he was back at school, revising for his summer exams at Trinity College Catholic school, a state secondary in Nottingham, while also preparing for his Royal Festival Hall concerto debut.
South African opera house accused of exploiting black singers
South Africa's leading opera house has been accused of financially exploiting 12 singers who performed internationally in a controversial but critically acclaimed production of Mozart's Così Fan Tutte, set in colonial north Africa and portraying racial abuse and rape by fascist Italian troops.
The Stage
How opera is extending its reach
Cressida Pollock, chief executive of London-based English National Opera, recently observed that the majority of performing arts audiences in the UK are "white, middle class". She added: "When we look to attract… new people into our audience, we have to acknowledge that we usually end up with a white, middle-class audience."
Graham Vick: Opera needs radical overhaul to survive
So much is encouraging about opera just now, most of it found in the sense of adventure of performances in pub theatres, supermarkets and car parks. Some of it is happening with small orchestras. Some of it is even happening without orchestras, with choruses of volunteers, without a chorus. Some of it is even amplified.
Classical Music Magazine
Composers' Fund open for applications
Applications are now open for the second round of funding from PRS for Music Foundation's Composer's Fund. The £150,000 fund aims to give composers more control of their careers by offering them direct access to funding, enabling them to realise projects and ambitions that may not be possible through traditional commissioning models.
The Strad
'If career becomes more important than the music, your soul becomes empty,' says cellist Steven Isserlis
'It's great to have a successful career, but if the career becomes more important than the music, your soul becomes empty'. Cellist Steven Isserlis speaks about music and career for Living The Classical Life.
Broadwayworld
Houston Symphony's September Slate Goes From Classic Rock to Judy Garland
September 2016 marks the beginning of the Houston Symphony's 103rd season and the diverse orchestral programming Houstonians have come to love. From classic rock to Judy Garland, Seth MacFarlane and Mahler, the season's first month of concerts will span several decades and genres of music.
Musik heute
Europäischer Komponistenpreis an Liisa Hirsch vergeben
Die estnische Komponistin Liisa Hirsch (32) hat den Europäischen Komponistenpreis 2016 erhalten. Ihr Werk "Mechanics of Flying" wurde beim Festival Young Euro Classic uraufgeführt und von einer Jury aus musikbegeisterten Laien ausgewählt.
nmz
Theater-Tickets in MV bundesweit am geringsten subventioniert
Die Theater-Tickets in Mecklenburg-Vorpommern sind nach einer Erhebung des Deutschen Bühnenvereins bundesweit am geringsten subventioniert. Der Zuschuss pro Besucher betrug in der Spielzeit 2014/15 im Nordosten 98,38 Euro.
RBB Kulturradio
Jennifer Rostock singt gegen die AfD
Die Berliner Band Jennifer Rostock hat mit einem Song gegen die AfD einen Netzhit gelandet. Bei Facebook klickten bislang 4,4 Millionen Menschen auf ein Video, das die Band in Wohnzimmer-Kulisse aufnahm.
Twitter
BBC Proms Team @bbcproms Classical music is often described as 'epic'. It's an entirely appropriate adjective here. http://bbc.in/2bPIX1f  #Strauss #AlpineSymphony
Tyne Opera House @TyneOperaHouse *TONIGHT* @TheChrisCross The Greatest Show on the Tyne! Tickets still available at http://tynetheatreandoperahouse.uk/events/chris-cross-presents-the-greatest-show-on-the-tyne/ …
BBC Music @bbcmusic A day in the life of the world's best classical music festival: From start to finish http://bbc.in/2c7Yc3s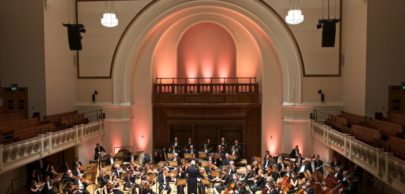 Photograph: RPO