In today's news: Nicola Benedetti has been a victim of stalking. Vasily Petrenko will be the Music Director of the RPO. Make Music Day generates over 500 free performances. Hacienda Classic brought performed an award winning show. Director at Opernhaus Zürich Andreas Homoki extends contract to 2025. Peter Ruzicka on his 70th birthday. Donald Trump denies entry to Cuban National Ballet.
Classic FM
Nicola Benedetti 'has learned to live with' her stalker
The top violinist said she has been a victim of stalking and had to take out a restraining order against one obsessive fan.
Classic FM
Vasily Petrenko will be the new Music Director of the Royal Philharmonic Orchestra in 2021
"I am delighted to become Music Director at this stage in the RPO's history. This Orchestra, with its outstanding musicians and clear vision from management, has enormous potential."
Rhinegold
Make Music Day generates over 500 public performances
The number of Make Music Day performances has tripled since the 2017 edition of the festival.
BBC News
Classical music is not 'entitled'
Hacienda Classic – the collaboration between former Hacienda DJs Mike Pickering and Graeme Park, with the Manchester Camerata Orchestra – brought their award-winning show (in all its shape-throwing glory) to the city's Castlefield Bowl.
klassik.com
Dirigent Zubin Mehta muss erneut Konzerte absagen
Der indische Dirigent Zubin Mehta (82) muss aus gesundheitlichen Gründen erneut mehrere Konzerte absagen und wird bis zum Ende der laufenden Konzertsaison pausieren.
Zürcher Zeitung
Stühlerücken im Opernhaus Zürich: Luisi geht, Homoki bleibt, Noseda kommt
Das Opernhaus Zürich schafft Fakten: Intendant Andreas Homoki verlängert seinen Vertrag bis zum Sommer 2025, es gibt einen neuen Generalmusikdirektor – und eine Neuproduktion von Wagners «Ring des Nibelungen».
Concerti
Er ist Musiker, Musikvermittler, Dirigent und Intendant bedeutender Opernhäuser sowie Festivals. Doch im Zentrum seines künstlerischen Schaffens steht das Komponieren. Heute feiert Peter Ruzicka seinen 70. Geburtstag
Platea
EE.UU. niega la entrada al Ballet Nacional de Cuba, cancelándose su Cascanueces con Dudamel
Siguiendo con su política de visados desde la llegada de Donald Trump a la presidencia, Estados Unidos ha negado la entrada al país al Ballet Nacional de Cuba, tal y como ha anunciado la Filarmónica de Los Ángeles, con quienes debían ofrecer varias funciones de El Cascanueces, de Tchaikovsky, a mediados de agosto.
Le Monde
Le Festival d'Aix ou 70 ans de création contre vents et mêlées
La manifestation, fondée en 1948 par la comtesse Lily Pastré, a toujours été en prise avec son temps.
Twitter
#Today in 1860 Birth of Scottish #composer William #Wallace. #MusicHistory #classicalmusic pic.twitter.com/PEjabZWftA

— Music History (@today_classical) July 3, 2018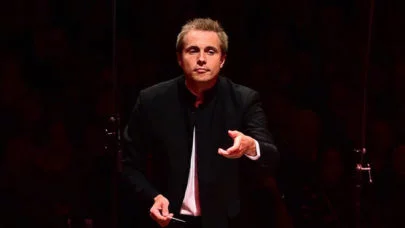 Vasily Petrenko (c) PA