Classical News
In today's news, Soundcloud launches streaming service Soundcloud Go to compete with Spotify, Sebastian Schwarz comments on how the opera should entertain the audience & Ben Goldscheider won the brass category final of BBC Young Musician 2016.
BBC News
Soundcloud launches Spotify competitor in the UK
The company hopes to attract users with a mixture of officially licensed tracks and its catalogue of 125 million covers, remixes, DJ sets and podcasts. Called Soundcloud Go, it costs £9.99 per month in line with its rivals.
The Telegraph
'Opera must never offend just for effect,' says Glyndebourne's new general director
Rumour in the opera world whispers that Glyndebourne bagged a tremendous catch when it signed Sebastian Schwarz as its new general director. "I think Covent Garden is kicking itself that it didn't get to him first," an insider friend of mine comments wryly.
Classical Music Magazine
Ben Goldscheider wins BBC Young Musician brass category
18-year-old horn player Ben Goldscheider has won the brass category final of BBC Young Musician 2016.
theguardian
Tales of the Unexpected: saying yes to today's composers
From requests for disused shops, paperbacks, toys, to an ocean bed, composers have kept BCMG on their toes. Outgoing artistic director Stephen Newbould reflects on the challenges and excitement at the cutting edge of contemporary music.
Broadwayworld
Las Vegas Philharmonic Receives Excellence in Education Honor
The Las Vegas Philharmonic was recently inducted into the Clark County School District's (CCSD) Excellence in Education Hall of Fame, recognizing the non-profit organization for their outstanding and impactful music education programs benefiting CCSD students through their annual Youth Concert Series.
pizzicato
Förderprogramm des Deutschen Musikrates für den dirigentischen Nachwuchs nimmt zehn neue Talente auf
Von insgesamt 63 Kandidaten, die sich um Aufnahme in das Dirigentenforum des Deutschen Musikrates beworben hatten, wurden 24 Orchesterdirigenten zum Auswahldirigieren mit den Nürnberger Symphonikern sowie 15 Chordirigenten zum Auswahldirigieren mit dem 'ensemberlino vocale' und dem Philharmonischen Chor Berlin eingeladen.
Musik heute
Anwalt: Eventuell kein Prozess gegen Geiger Arzberger
Der in New York wegen eines mutmaßlichen Mordversuchs festgenommene Geiger Stefan Arzberger aus Leipzig kann einem Gerichtsprozess in den USA möglicherweise entkommen.
BR Klassik
Weil Mitarbeiter des Mainzer Staatstheaters lautstark Beethovens "Ode an die Freude" angestimmt und damit eine AfD-Demonstration gestört hatten, wurde ein Strafverfahren eingeleitet. Jetzt ist das Ergebnis bekannt geworden.
Twitter
Glyndebourne @glyndebourne Festival 2017 line-up announced. Full details here: http://www.glyndebourne.com/tickets-and-whats-on/our-seasons/festival-2017/ … #Glyndebourne2017
Live Music Now @LiveMusicNowUK See some lovely photographs of our 'The King, the Cat and the Fiddle' project, from @RhinegoldDigi @MusicTeacherMag
bigshotmagazine @bigshotmagazine 12 Albums for May @GrooveArmada @fabriclondon @Kate_Simko @jeanmicheljarre @Digitalism @18plus18plus @Jameszooo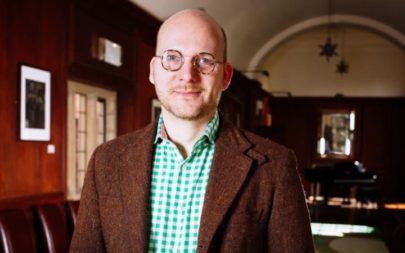 Sebastian Schwarz, the new general director of Glyndebourne Photograph: James Bellorini