Classical News
In today's news, read about the great British conductor and violinist, Sir Neville Marriner, who passed away at the age of 92 yesterday. Also, read about the strikes of several orchestras in the U.S. In addition, the Scottish International Piano Competition 2017 will take place from 1st September to 10th September 2017.
BBC News
Leading British conductor Sir Neville Marriner dies at 92
The British conductor and violinist, Sir Neville Marriner, has died at the age of 92, the Academy of St Martin in the Fields says.
The Guardian
Conductor Sir Neville Marriner dies aged 92
Marriner was still conducting into his 90s, conducting a concert to celebrate entering his 10th decade two years ago, which included a rendition of Happy Birthday. His 90th birthday was also marked by Classic FM dedicating an entire day of programming to his performances.
The Telegraph
'It was a bit noisy': the late Sir Neville Marriner on studying violin during the Blitz
In an interview last year, Sir Neville Marriner told Ivan Hewett how a love of Handel took this carpenter's son from Lincoln to London in 1939.
The New York Times
Philadelphia Orchestra Ends Its Brief Strike
Musicians in the Philadelphia Orchestra play outside the Kimmel Center, the orchestra's home, after going on strike Friday. The Philadelphia Orchestra ended a brief strike on Sunday, two days after its musicians sent a shock wave through the classical music world by walking off the job just before a season-opening gala.
For Orchestras in the U.S., So Much Depends on Their Communities' Fortunes
The orchestra world's Black Friday began on Sept. 30 with the Pittsburgh Symphony Orchestra going on strike in the morning and ended across Pennsylvania that evening with the Philadelphia Orchestra walking out as patrons gathered for its opening-night gala. The Fort Worth Symphony Orchestra musicians, who were already on strike, sent their support on Twitter.
Classical Music Magazine
Help Musicians to launch Northern Ireland brand
Help Musicians is to introduce a new brand in Northern Ireland next month.
Birmingham City University announces partnership with UK Music
Birmingham City University is to become one of the Music Academic Partnership's 11 member organisations. Run by UK Music, MAP offers training, placements and networking opportunities for individuals who want to build careers in music.
Scottish International Piano Competition 2017
The next edition of the Scottish International Piano Competition will take place 1-10 September 2017. Pianists aged 18-30 will compete for the £10,000 first prize, which carries with it the Frederic Lamond gold medal and an invitation to perform with the RSNO in 2018.
The Strad
Romanian cellist sustains injuries during police raid
A Romanian cellist jumped from his first floor window and sustained 'multiple fractures' as well as cancelled a forthcoming concert, during a police raid of his apartment block in Bucharest.
Twitter
Classical Music @ClassicalMusic_ .@BBCYoungMus finalist @JessGillamSax leads our brass and wind focus in CM October! http://ow.ly/WOE9304EtC4
ICSOM @ICSOM Philly Strike Ends! https://t.co/aIJp7RbKZG #ClassicalMusic #Symphony #Orchestra @POMusicians
Classic FM @ClassicFM Yesterday we lost a truly great conductor – tune in now for our tribute to Sir Neville Marriner…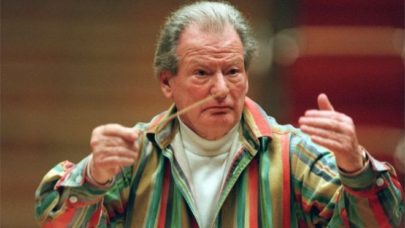 Photograph: BBC News/ AP