In today's news: Konzerthaus Berlin releases financial statement from previous season. Report on sexual abuse from the Musikhochschule in Munich. Happy Independence Day – the Russian immigrant who composed an American classic. Ravenna Festival honours Ukrainian composer Valentin Silvestrov. A Theremin ensemble plays 'Ode to Joy'. Wiltshire Music Centre reveals 20th anniversary season. The Purcell School appoints new director of music. Artist forms whale choir.
Rhinegold
Wiltshire Music Centre reveals 20th anniversary autumn season
Pianist Joanna MacGregor and jazz vocalist Claire Martin OBE are artists in residence, while the Orchestra of the Age of Enlightenment is orchestra in residence.
Rhinegold
The Purcell School appoints new director of music
Paul Hoskins has been appointed director of music at The Purcell School. He is currently music director at dance company Rambert, where he developed the Rambert Music Scholarship to encourage young composers to write for dance.
Classic FM
Watch: A massive THEREMIN ensemble plays 'Ode to Joy'
Just a giant orchestra of theremin players, performing the signature tune from Beethoven's Symphony No. 9 on what seem to be tiny Russian dolls.
BBC News
Artist forms whale choir in North Shields
A choir, made up of a group of volunteers, mimics the various sounds made by whales
New York Times
'God Bless America': 100 Years of an Immigrant's Anthem
The 5-year-old and his family had traveled thousands of miles to escape. When they finally arrived on American soil, free from the marauders who had burned their house to the ground, the boy was placed in a holding pen with his brother and sisters, while immigration officials decided their fate. From this story, a classic piece of music emerged.
Der Tagesspiegel
"Wir brauchen eine Schule des Hörens"
Der Berliner Staatsopern-Intendant Matthias Schulz über den Kampf mit der Bühnentechnik und das neue Kinderorchester.
klassik.com
Konzerthaus Berlin legt Bilanz für die Spielzeit 2017/18 vor
Das Konzerthaus Berlin hat die Bilanz für die Spielzeit 2017/18 veröffentlicht: Eigenen Angaben zufolge knüpft das Ergebnis an die Vorsaison an und übertrifft sie sogar.
Musik Heute
Gutachter prüfen nach sexuellen Übergriffen Münchner Musikhochschule
Wegen mehrerer sexueller Übergriffe an der Münchner Musikhochschule soll nun eine Expertenkommission die Einrichtung genauer unter die Lupe nehmen.
Platea
El Festival de Ravenna rinde homenaje al compositor ucraniano Valentin Silvestrov
Nacido en Kiev en 1937, el pianista y compositor Valentin Silvestrov es el principal homenajeado en la edición 2018 del Ravenna Festival, con Riccardo Muti al frente.
Twitter
This is just lovely… 🎶 pic.twitter.com/RFLoCoKfAW

— Classic FM (@ClassicFM) July 4, 2018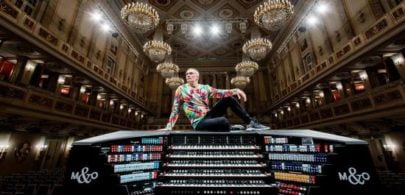 Konzerthaus Berlin, Cameron Carpenter, © Marco Borggreve