Classical News
In today's news, Andris Nelsons pulled out of conducting at Bayreuth Festival, Carole King makes stage return after 27 years & the Telegraph questions whether music festivals actually make enough money. Also, massive attacks after Hyde Park concert.
International Arts Manager
Andris Nelsons has pulled out of conducting Parsifal at this year's Bayreuth Festival, just weeks before opening night. It is not the first time such off-stage drama has happened at Bayreuth, which has seen numerous squabbles among Wagner's heirs who run it. As yet the exact reason for the cancellation is unclear.
The Telegraph
Do the growing number of music festivals actually make any money?
The people of Clitheroe are angry. Last week, two days before the start of Glastonbury, the news broke that their very own festival had been cancelled. The Summer Days festival, to be held at Clitheroe Castle, was due to start on Wednesday this week. Simply Red and Jools Holland were booked to headline the party and tickets were sold.
Massive Attack hit out at 'racists and bigots' following Brexit at London Hyde Park concert
The fallout from the EU referendum continued to stretch far beyond the political and economic arenas, as trip-hop pioneers Massive Attack hit back at the "racists and bigots" during a historic London festival set on Friday.
BBC News
Carole King makes UK stage return playing Tapestry in full
After a gap of 27 years, Carole King has returned to the UK stage to play her classic album Tapestry in full. For once, the British weather attempted to emulate the gauzy Californian heat in which the record was made, as King performed hits including I Feel The Earth Move and You've Got A Friend in the late-evening breeze.
The Guardian
A musical tour of Europe's great cities: London
The tragic decision for the UK to leave the European Union has prompted us to undertake, with your help, a new series in which we celebrate the great cities of Europe through the music they have inspired.
The Seattle Times
Congress tells military bands the days of $11,000 flutes are numbered
The U.S. military has trumpeted its bands as a critical soft-power weapon, but in an era of budget cuts and troop reductions, Congress is signaling it may be time for one of the largest employers of musicians in the world to turn the music down.
klassik.com
Carl Orff-Preis für Christian von Gehren
Der Dirigent Christian von Gehren erhält den Carl Orff-Preis 2016. Von Gehren war Dirigent der Carl Orff-Festspiele in Andechs und habe in dieser Funktion "ausgezeichnete Arbeit geleistet und entscheidend zum musikalischen Niveau der Festspiele beitragen", so das Vorstandsmitglied der Carl Orff-Stiftung Ute Hermann.
pizzicato
Thielemann fleht Nelsons an, nach Bayreuth zurückzukommen
Nach der Andris Nelsons von den Bayreuther Festspielen ohne viel Federlesens zugestandenen Vertragsauflösung für den 'Parsifal' sucht man auf dem Grünen Hügel einen Ersatz. Laut deutschen Presseberichten hat der Musikdirektor der Festspiele, Christian Thielemann, Nelsons zur Rückkehr auf den Grünen Hügel aufgefordert.
BR KLASSIK
Salzburger Festspiele – Pleite beim Ticketverkauf: 900 Besucher stehen ohne Karten da
Für etwa 900 Besucher schlägt die Freude auf die Salzburger Festspiele kurz vor dem Start am 22. Juli in Stress um. Denn obwohl sie ihre Karten längst reserviert und bezahlt haben, bekommen sie sie nicht. Der Grund: Ihr Ticketbüro ist insolvent.
nmz
"Best Edition" – Verleihung der Deutschen Musikeditionspreise 2016
Wie bereits in den vergangenen Jahren fand die Preisverleihung des Musikeditionspreises "Best Edition" im Rahmen der Frankfurter Musikmesse am Gemeinschaftsstand von neuer musikzeitung, Deutschlandfunk und Deutschem Musikrat statt.
Twitter
The Royal Opera @TheRoyalOpera What did you think of #ROHtrovatore? Opening night audience reviews (+/-): http://www.roh.org.uk/news/your-reaction-verdis-il-trovatore … ^C
Classical Music News @CIassicalMusic Facing the music: Tenor Paul Appleby http://dlvr.it/Ljny48  #ClassicalMusic
New York Times Arts @nytimesarts House music in a Serbian fortess, an opera festival in Munich, rock in Bogotá and more arts to know about this week https://t.co/AuheOcShgk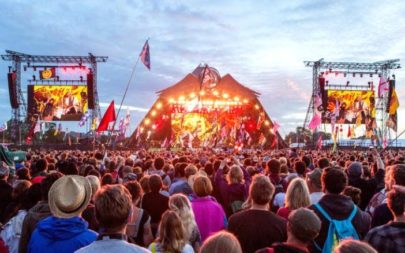 Photograph: Roger Cracknell / Alamy Stock photo