Classical News
In today's classical news, read about Groupmuse, a service currently provided in parts of U.S., bringing classical music to your living room. BBC launches project to uncover works by female composers in joint partnership with Arts and Humanities Reserach Council. Rubicon Classics, a label that will launch in January that aims to bring a new audience to classical music by marketing itself primarily on social media and the internet. Also, Fort Worth Symphony's strike is likely to end soon, as the management and the musicians might have reached a tentative agreement.
The New York Times
I Went to My First Classical Music Concert. It Was in My Living Room.
The smile that spread across my face a few seconds after the Zaffre Quartet began the rousing finale of Mozart's String Quartet in G was the first hint that I'd stumbled onto something special.
CMUSE
BBC launches project to discover works by women composers
BBC Radio 3 is beginning a project to uncover the lost works of women composers in a joint partnership with the Arts and Humanities Research Council. The aim will be to locate music by forgotten composers and record it by making use of the BBC's orchestras and choirs.
What was Mozart's last completed composition?
Today is the 225th anniversary of the death of Mozart on 5 December, 1791. Anyone unaware of the dramatic licence taken in the play and film "Amadeus" might think that the genius composed the last bars of his Requiem on his deathbed, but reality didn't quite live up to that story.
How does the oldest piano in the world sound?
Bartolomeo Cristofori, the inventor of the piano, created the instrument around the turn of the 18th century. The first hard evidence of a piano in existence comes from an inventory of goods from 1700, in which it is referred to as a harp harpsichord.
pizzicato.lu
Fort Worth Symphony Strike Is Likely To End
The management and the musicians of the Fort Symphony Orchestra have reached a tentative agreement, the Star Telegram reports.
The Violin Channel
British Violinist Sentenced to 2.5 Years Jail Over 'Fake Cancer' Scam
British violinist Bethan Doci has been jailed for 32 months after it was revealed she conned over $440,000 from good samaritans in a 'fake cancer' scam
Classical Music Magazine
Rubicon Classics to launch in January
A label will launch in January that aims to bring a new audience to classical music by marketing itself primarily on social media and the internet.
Die Welt
So viel Amadeus war nie. Und wird nie wieder sein
Zu Mozarts 225. Todestag setzt die Deutsche Grammophon mit einer 200 CDs umfassenden Box auch sich selbst ein Denkmal. Die Rekordausgabe ist sehr schön. Stimmt aber auch ziemlich wehmütig.
Frankfurter Allgemeine Zeitung
Über viele Jahrzehnte prägte sie als Theaterschauspielerin das Berliner Ensemble. Sie sang Chansons auf den großen Bühnen und hinterließ ihre Spuren auch im Fernsehen. Ein Nachruf auf Gisela May.
klassik.com
Besucherzahlen in Interimsspielstätte um 20.000 niedriger als im Musicalzelt der Vorsaison
Oper Köln: 44 Millionen Euro Verlust, rückläufige Besucherzahlen
Twitter
Music History @today_classical #Today in 1791 Death of W. A. #Mozart in Vienna #MusicHistory #classicalmusic
Classical Music News @ClassicalMusic How do musicians' brains process so many notes? http://dlvr.it/MplLNH #ClassicalMusic
Classic FM @ClassicFM For a truly magical carol concert, head to @StPaulsLondon this Thursday, in aid of @mssocietyuk Tickets: http://classfm.co/YLfTAw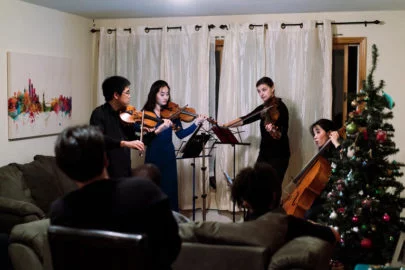 Photo: An Rong Xu for The New York Times