In today's news, Equity releases sexual harrasment report, Primrose viola competition reveals 24 candidates for its 2018 event, UK music and entertainment surpasses print sales, Boston Symphony finds accusations against conductor Charles Dutoit credible, Australia Council Awards announces winners, Leipzig to host the 4th German Choir Festival in 2020, Katowice plans cultural institution in composer Wojciech Kilar's former house and more.
Classical Music
Equity releases sexual harassment report
The performing arts union, which represents 43,000 creative workers, has published a report titled Agenda for Change, which contains a number of recommendations for those working in the performing arts.
The Strad
Primrose Viola Competition reveals 24 candidates for 2018 edition
Competition taking place in LA in June 2018 counts Lawrence Power, Antoine Tamestit and Jennifer Stumm among previous winners.
M Magazine
UK music and entertainment sales overtake print for first time
The streaming boom has seen entertainment sales overtake books, magazines and newspapers for the first time.
BBC Music Magazine
A new piece commissioned by the UK's largest breast cancer charity
The piece celebrates the friends and family of those living with breast cancer.
The New York Times
At the New York Philharmonic, a Contract Aimed at Labor-Management Harmony
The orchestra management and the musicians approved a three-year contract Thursday.
Boston Symphony Finds Accusations Against Charles Dutoit 'Credible'
The Boston Symphony announced Friday that four women who worked for the orchestra in the 1980s and 1990s had given its investigators credible accounts of sexual misconduct at the hands of Charles Dutoit, a frequent guest conductor.
Limelight
Australia Council Awards for 2018 announced
The Australia Council has announced the winners of the 2018 Australia Council Awards, with composer Liza Lim taking out the Australia Council Don Banks Music Award.
nmz
Deutsches Chorfest 2020 in Leipzig
Leipzig ist die Gastgeberstadt des 4. Deutschen Chorfestes im Frühjahr 2020.
pizzicato
Thomas Guggeis wird Kapellmeister in Stuttgart
Thomas Guggeis (24), Assistent von Daniel Barenboim seit der Saison 2016/17, wird ab der Spielzeit 2018/2019 Kapellmeister an der Staatsoper Stuttgart.
Katowice plans cultural institution in composer Wojciech Kilar's former house
The city of Katowice will acquire the former home of Polish composer Wojciech Kilar and set it up as a cultural institution focusing on his music and legacy.
Musik heute
Händel-Festspiele Karlsruhe ziehen 12.300 Besucher an
Die Internationalen Händel-Festspiele in Karlsruhe haben bei ihrer 41. Ausgabe rund 12.300 Barock-Fans aus aller Welt angezogen.
Klassik heute
CLARA19 – Leipzig feiert Clara Schumann zum 200. Geburtstag 2019
Leipzig's renommierte Kulturinstitutionen und Künstler sowie internationale Gäste lassen Clara Schumann anlässlich ihres 200. Geburtstages 2019 das gesamtes Jahr über in ihrer Geburtsstadt hochleben.
klassic.com
Elisabeth Gutjahr wird nun doch Mozarteum-Rektorin
Die Universität Mozarteum Salzburg hat Elisabeth Gutjahr nun doch zur Rektorin bestimmt.
Twitter
Music History‏ @today_classical #Today in 1887 Birth of Brazilian #composer Heitor #VillaLobos in Rio de Janiero. #MusicHistory #classicalmusic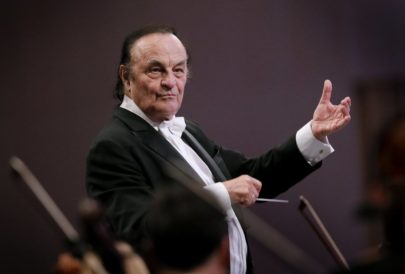 Image: Charles Dutoit © Robert Ghement/European Pressphoto Agency