In today's news, Sheffield announces full program for their second Classical Weekend Festival, and Downtown launches a new music rights company in Tokyo. Sirena Huang is awarded first prize at the Elmar Oliveira Violin Competition. Over the weekend, Erich Leinsdorf celebrates his would-be birthday of 105 years, and today in 1933 Henry Brant's Angels and Devils for flute was performed in New York City for the first time.
The Violin Channel
VC Young Artist Sirena Huang Awarded 1st Prize at Elmar Oliveira Violin Comp
A graduate of the Juilliard School, and current post graduate student of Hyo Kang at Yale University, Sirena is a former major prize winner at the Singapore and Shanghai Isaac Stern International Violin Competitions.
Sheffield Telegraph
Classical: Host of Music Treats
Sheffield's second Classical Weekend Festival, set to take place on March 17 to 19, has announced its full programme, featuring a host of international artists, and local musicians across city venues.
Music Business Worldwide
DOWNTOWN LAUNCHES NEW COMPANY IN JAPAN, PARTNERS WITH AVEX
Music rights company Downtown has launched a new Tokyo-based company, Downtown Music Japan Inc. The operation will focus on signing and developing Japanese songwriters, artists and producers, marketing and promoting Downtown's substantial English-catalogue, and more efficiently collecting songwriting royalties from the world's second largest music market. The expansion adds to Downtown's existing offices in New York, Nashville, Los Angeles, London and Amsterdam.
The Violin Channel
VC INTERVIEW | Elmar Oliveira – Artistic Director, Elmar Oliveira International Violin Comp 
The Violin Channel recently caught up with violinist Elmar Oliveira, Distinguished Artist in Residence at Lynn University and Founder & Artistic Director of the inaugural 2017 Elmar Oliveira International Violin Competition – currently in its Final Rounds in Boca Raton, Florida.
The Violin Channel
Conductor Erich Leinsdorf Born On This Day in 1912
Austrian-born American conductor Erich Leinsdorf was born on this day in 1912 – 105 years ago. Dying in 1993, Maestro Leinsdorf served prestigious conducting positions with The Metropolitan Opera, The Cleveland Orchestra, Rochester Philharmonic Orchestra, New York City Opera, Boston Symphony Orchestra, New York Philharmonic and the (West) Berlin Radio Symphony Orchestra.
Feuilleton
Komponist des Kirchenlieds "Danke" gestorben
Mit "Danke" gelang ihm ein Hit, über den Theologen die Nase rümpften – und mit dem er die Charts stürmte. Jetzt ist der Kirchenmusiker und Komponist Martin Gotthard Schneider im Alter von 86 Jahren gestorben.
Der Tagesspigel
Der Berliner Musiker Phillip Sollmann ist als DJ Efdemin bekannt. Für das Konzertprojekt "Monophonie" erforscht er nun rein mechanisch produzierte Klänge.
OnlineFocus
Veranstalter teilt mit: "Rockavaria"-Festival im Olympiapark abgesagt
Schlechte Nachricht für Musikfans: Das Aus für "Rockavaria" im Münchner Olympiapark ist offiziell. Das Festival findet in diesem Jahr nicht mehr statt, wie der Veranstalter am Samstag mitteilte.
Le Figaro
Super Bowl 2017 : Lady Gaga fait son show et envoie un message de tolérance
La diva de la pop a interprété ses plus grands tubes mais également deux chants patriotiques américains lors de sa prestation à la mi-temps de la compétition sportive, dimanche soir à Houston.
LaCroix
À la « Folle Journée » de Nantes, danse ou transe ?
En plaçant cette édition 2017 sous le signe de la danse, René Martin a donné au public un rôle tout particulier, jusqu'à l'inciter à monter sur scène lors d'un concert-performance « participatif ».
Twitter
@WDR3 Live-Aufnahmen von Bob Marley restauriert #Kulturnachrichten
@musikzeitung #Badblog > Butter bei die Fische: Ratschläge für die #Verhandlung von Auftragshonoraren…
@Music History #Today in 1933 FP of Henry #Brant's Angels and Devils for flute ensemble, in NYC. #MusicHistory #classicalmusic
@Classical Music News Facing the music: Helen Grime #ClassicalMusic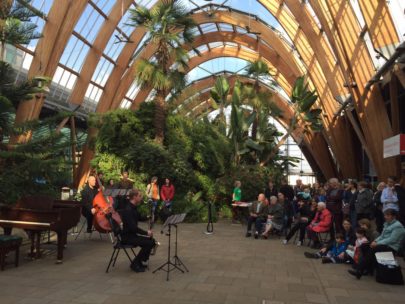 Image: Sheffield Classical Music Weekend Festival