Classical News
In today's Classical News, conductor Eliahu Inbal perfoms with the Konzerthausorchester Berlin, a tribute to composer and festival director Siegfried Wagner, and the first critique of the newly-opened Pierre Boulez Hall.  Birmingham is set to become the capital of  'people's classical music', the V&A launches a new exhibtion focused on opera, and the City of London Sinfonia announces a commitment to 50% female artistic leadership.
International Arts Manager
UK orchestra announces commitment to 50% female artistic leadership
City of London Sinfonia has announced it is to go even further in its quest for equal representation of women across its ranks.
Rhinegold
The 20th Winchester Festival will take place 7-15 July 2017.  The first day of the festival will include a performance from Tasmin Little and the European Union Chamber Orchestra featuring The Four Seasons, Elgar's Serenade, and Haydn's Symphony no. 42.
BBC announces opera focus for autumn 2017
The BBC has announced a focus on opera for autumn 2017 to coincide with the V&A's 'Opera: Passion, Power and Politics' exhibition.  Themes from the exhibition, which will run between 30 September 2017 and 25 February 2018, will be interpreted through BBC Music television and radio broadcasts.
Der Tagespiegel
Der vielfach preisgekrönte Dirigent Eliahu Inbal führt mit dem Konzerthausorchester Mendelssohn und Mahler auf – mit Ryu Goto als Solist.
Die Welt
Als ein schwuler Dandy über Bayreuth herrschte
Er stand im Schatten seines Vaters Richard Wagner. Aber der "Meistersohn" Siegfried ist eine schillernde Persönlichkeit aus eigenem Recht. Endlich wird der Komponist und Festspielleiter gewürdigt.
Weniger hellhörig, dafür akustisch etwas hallig
In Berlin wurde der Pierre Boulez Saal von Daniel Barenboim eingeweiht. Eine kleine Konzertarena für Kammermusik hinter der Staatsoper. Unser Klassikkritiker hat die Akustik getestet.
Guardian
Birmingham set to become the capital of 'people's classical music ' says Julian Lloyd Webber
Cellist looks foward to heading new £57m conservatoire but is concerned about government cuts.
V&A opera exhibition looks to put to rest prejudice about art form
A newly announced V&A exhibition exploring opera could help remove the prejudice and misconceptions many people still have about the art form, it has been claimed.
Twitter
kulturradio vom rbb @Kulturradio_rbb Bariton Hasselhorn gewinnt Gesangswettbewerb "Das Lied" http://www.kulturradio.de/nachrichten/2017/03/Bariton-Hasselhorn-gewinnt-Gesangswettbewerb-Das-Lied.html … #kulturnachrichten
#Today in 1926 Birth of American #musicologist H.C. Robbins #Landon in Boston #MusicHistory #classicalmusic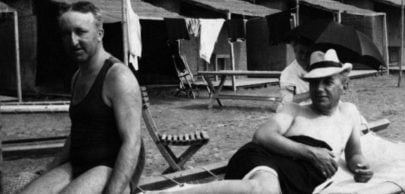 Image: Siegfried Wagner (left) and company © Internationale Siegfried Wagner Gesellschaft/Schwules Museum