In today's news, English National Opera unveils its masterplan for securing its future, a Russian Orchestra played in the ruins of the ancient Syrian city of Palmyra, and Sir James Galway receives honorary doctorate.
The Telegraph
English National Opera unveils plans for sex, silence and Hollywood stars
English National Opera has unveiled its masterplan to secure its future: more musicals, a tour to Blackpool, and "sex, sex, and more sex".
The New York Times
Russian Orchestra Plays in Palmyra Ruins as Strikes Kill 28
A renowned Russian conductor led a triumphant concert on Thursday in the ruins of the ancient Syrian city of Palmyra, once terrorised by the Islamic State group, even as an airstrike on a refugee camp in the north left at least 28 people dead and dozens wounded, including many children.
Classical Music Magazine
Sir James Galway receives honorary doctorate
Birmingham City University has presented Sir James Galway with an honorary doctorate for his services to music. Sir James Galway was named Doctor of the University (DUniv) after a concert as part of his residency at Birmingham Conservatoire (part of Birmingham City University).
Inaugural winners of RPS duet prizes announced
18-year-old composer Freya Ireland and 16-year-old cellist Sheku Kanneh-Mason each win a public recital/performance at a national music festival and £1,500 to support their musical development.
The Strad
Violinist/violist Matt Albert to head new University of Michigan Chamber Music department
The University of Michigan School of Music has appointed violinist/violist Matt Albert as the first chair of its new Department of Chamber Music, launched in autumn 2015.
Klassik heute
Semyon Bychkov leitet das Sommernachtskonzert der Wiener Philharmoniker
Im einzigartigen Ambiente des Schönbrunner Schlossparks findet am Donnerstag, 26. Mai 2016 bei freiem Eintritt das alljährliche Sommernachtskonzert Schönbrunn der Wiener Philharmoniker statt.
Matthias Georg Kendlinger gründet zweites Orchester
Matthias Georg Kendlinger, Gründer der K&K Philharmoniker, wird im Mai 2016 ein zweites privat finanziertes Orchester ins Leben rufen: die K&K Symphoniker.
Musik Heute
"Musik der Hoffnung": Gergijew gibt Konzert in Palmyra
Mit einem Sinfoniekonzert in der antiken Oasenstadt Palmyra hat Syriens enger Partner Russland demonstrativ seine Rolle in dem Bürgerkriegsland herausgestrichen. Für den Auftritt im römischen Amphitheater des Unesco-Weltkulturerbes war eigens das Orchester des St. Petersburger Mariinski-Theaters eingeflogen worden.
Twitter
Sky News @SkyNews A Russian orchestra has performed a classical music concert in the ruins of Palmyra
Classical Music @ClassicalMusic_ Geoff Parkin appointed as director of @ROSLARTS
New York Times Arts What can @MetOpera do to fill its empty seats? Our team of classical music critics and reporters have some ideas: http://nyti.ms/26X7sOP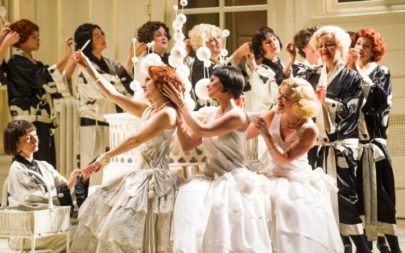 Photograph: Tristram Kenton