In today's news: Clemency Burton-Hill on where to start your classical music experiences, musicians fight homelessness and Lawrence Ball explains his spiritual approach to music. Australian classical performances generated more than one billion dollars, while the Vienna symphony orchestra is under financial review and the local government of Nordrhein-Westfalen is promising sustained financial aid for their artists. Porsche has a new ad featuring a "High Speed Orchestra" and a new production of Cavalleria rusticana is bringing polish communism to the UK.
The Times
Are you getting your classical music 'one-a-day'?
Clemency Burton-Hill was recently asked by the manager of her local café to make him a playlist. They had been chatting, and he'd discovered she was a classical music broadcaster.
International Arts Manager
Communist Poland comes to the UK in radical new opera adaptation
A new production of Cavalleria rusticana, commissioned by Opera North and developed by Polish director Karolina Sofulak, has premiered in the UK.
Exploring the spiritual element of classical music
Composer Lawrence Ball explains how his spiritual approach to classical music (and festival management) will play out at this year's Planet Tree Music Festival — and why audiences will be lying down
ITV News
Musicians join the fight against homelessness
The musicians Against Homelessness campaign has spread across the country. The idea is to raise money for Crisis, the charity that helps people who're homeless.
Ad Week
Porsche Conducts a 'High Speed Orchestra' to Show Off Its New Sound System
It shouldn't come as a surprise that Porsche's latest ad is about performance, but it's probably not what you're expecting.
Limelight
Live performances generated more than $1 billion in 2016
Classical music and opera in Australia both saw significant growth in revenue, report shows.
Washington Post
New baton, familiar style: Performer-conductor Stutzmann at the NSO
Nathalie Stutzmann is a performer-turned-conductor: one of a veritable bevy of artists who have expanded their reach by mounting the podium.
Pizzicato
Rechnungshof nimmt Wiener Symphoniker in die Mangel
Die Wiener Symphoniker haben mit « nachhaltigen finanziellen Problemen » zu kämpfen heißt es in einem Bericht des Rechnungshofs der Stadt Wien.
Klassik.com
Land NRW will Kommunen bei der Kulturförderung unterstützen
Die Kulturministerin des Landes Nordrhein-Westfalen, Isabel Pfeiffer-Poensgen (parteilos), hat im Kulturausschuss angekündigt, Kommunen bei der Förderung von Kultureinrichtungen unterstützen zu wollen.
Codex flores
Sinfonieorchester Basel in Grossbritannien
Das Sinfonieorchester Basel gibt zur Zeit unter Leitung seines Chefdirigenten Ivor Bolton in dessen Heimat vier Konzerte – in London, Edinburgh, Manchester und Birmingham.
Twitter
@ClassicFM We're devoting today to our charity, @makenoise! Join us on Classic FM and online to hear about what we're doing and why it's important!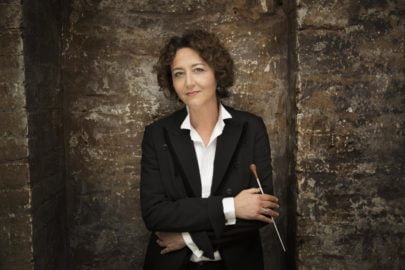 Nathalie Stutzmann © Simon Fowler