In today's Classical News, Imogen Tilden tackles conducting's gender problem, and the Ravel Museum in Montfort-l'Amaury shuts abruptly.  Composer John Adams joins the Royal Academy of Music as a visiting professor, and Southbank Sinfonia announce #ConcertLab.  Conductor Christoph von Dohnanyi has written an article to warn of the politics the United States are engaging in, and the University of Texas receives a $400,000 grant for the Mellon Foundation.
The Guardian
'This is not a woman's issue' – tackling conducting's gender problem
In 2013's Last Night of the Proms, Marin Alsop hailed progress towards inclusivity in classical music. But that progress is painfully slow, as some shocking statistics reveal. This is an issue that we all need to keep talking about.
The closure of the Ravel museum would be an act of cultural sabotage
The charming, eclectic museum in the French composer's house at Montfort-l'Amaury has been abruptly closed and its future is in doubt.
Rhinegold
John Adams joins RAM as visiting professor
John Adams has joined the Royal Academy of Music as a visiting professor.  Adams' relationship with RAM began in 2012, when he conducted concerts at New York's Lincoln Center and the BBC Proms in which RAM students performed alongside Juilliard School players.
Southbank Sinfonia announces #ConcertLab performances
The Southbank Sinfonia is to explore different aspects of concert presentation in its #ConcertLab performances.  Eight of the ensemble's Rush Hour concerts will experiment with layout, lighting, movement and concertwear. The premise will see the musicians work alongside movement directors, choreographers and lighting directors, inviting audience feedback.
International Arts Manager
Latest international funding news
A 27 per cent increase for cultural projects is set to promote cooperation between Ireland and Northern Ireland. The funds will be used for projects like the Cross Border Orchestra of Ireland, who will receive €100,000, with an additional €150,000 going to the Cooperation with Northern Ireland (CNI) scheme, which was expanded in January.
The director of the California Arts Council (CAC) and the CEO of Americans for the Arts (AFTA) have both written open letters protesting potential cuts to the National Endowment for the Arts (NEA). At least two members of the Trump transition team suggested that the NEA – originally set up in 1965 – should be abolished.
Austin360
UT receives $400,000 Mellon Foundation grant for new classical music
The Andrew W. Mellon Foundation has awarded $400,000 to UT's Texas Performing Arts so that the organization may continue to develop new classical music.
Der Tagesspiegel
Wofür steht eigentlich der neue Kultursenator? Klaus Lederer gibt ein nichtssagendes Debüt im Kulturausschuss, Sabine Bangert von den Grünen wird einstimmig zur Vorsitzenden gewählt.
Berliner Morgenpost
Die Berliner Orchester tragen gern Schwarz 
In Berliner Klangkörpern gelten klare Kleiderregeln. Sie sollen helfen, alles zu vermeiden, was von der Musik ablenkt.
klassik.com
Förderpreis für Oscar Escudero
Busoni-Kompositionspreis 2017 für Benjamin Scheuer
El País
Los Amantes de Teruel vuelven de la tumba (nunca se fueron)
El compositor Javier Navarrete convierte en ópera la leyenda de Isabel de Segura y Juan de Marcilla
pizzicato.lu
Christoph von Dohnanyi against Trump: « Fear and aggression produce nothing but fear and aggression »
Conductor Christoph von Dohnanyi has written an article to warn from the new politics, the United States are engaging in, the website Democratic Underground reports.
Twitter
Classical Music News @ClassicalNews PRS for Music celebrates possibilities of digital http://dlvr.it/NJRlxg  #ClassicalMusic
Music History @today_classical #Today in 1873 FP of #Tchaikovsky's Symphony No. 2 Little Russian in Moscow. #MusicHistory #classicalmusic
Noah Stewart @noahsofficial Heros & Sheros who paved the way in Classical Music. #RolandHayes #BlackHistoryMonth https://youtu.be/8Sibe38cQPQ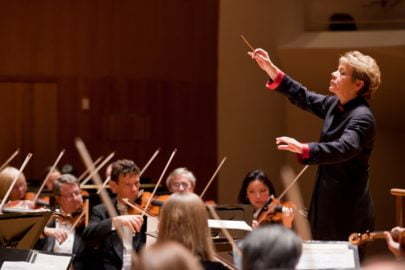 Image: Marin Alsop