In today's news: A concert in memory of composer Michael Hirsch at the Deutsche Oper, the lasts secrets of Maria Callas to be revealed in Paris, West End director warns of targeting a younger audience and the politicisation of music in Venezuela.
Guardian
West End director issues warning about overlooking older audiences
The theatre director Dominic Dromgoole has warned of the dangers of relentlessly pursuing younger audiences at the expense of regular and older theatregoers.
BBC News
Stream-ripping is 'fastest growing' music piracy
Several sites and apps allow users to turn Spotify songs, YouTube videos and other streaming content into permanent files to store on phones and computers.
Classical Source
NYO Inspire Orchestra on the Waterfront
This July, 73 teenage musicians from across the country will come together to form NYO Inspire Orchestra, in what will be a ten-day celebration of exceptional orchestral music-making on a national level.
The Conversation
Is Venezuela's much-hyped El Sistema music programme a hotbed of political resistance?
Venezuela's El Sistema ("the system") is probably the world's most famous music education programme – and its most misunderstood.
The New York Times
Anthony Roth Costanzo in a Handel Rarity at National Sawdust
The vocally brilliant and dramatically fearless countertenor Anthony Roth Costanzo, working with the innovative opera director Christopher Alden, comes to National Sawdust in Brooklyn with a staged version of a Handel rarity.
Broadway World
Music Institute of Chicago to Present 29th Annual Chicago Duo Piano Festival
The Music Institute of Chicago presents its 29th annual Chicago Duo Piano Festival July 7-16.
Der Tagesspiegel
Abschied von einem großen Geist: Das Gedenkkonzert für den Komponisten Michael Hirsch in der Deutschen Oper, mit der Uraufführung von "Bastard 2".
Die Zeit
Komponist Pierre Henry ist tot
Er gilt als ein Pionier der elektronischen Musik, für einige war er sogar der "Großvater des Techno". Pierre Henry ist im Alter von 89 Jahren in Paris gestorben.
Fono Forum
Die Bayreuther Festspiele im Home-Auditorium
Der Eröffnungsabend der Bayreuther Festspiele 2017 wird am 25. Juli live auf BR-Klassik im Radio und per Video-Livestream übertragen. Ausstrahlungen der Fernsehfassung folgen in 3sat und ARD-alpha.
El Mundo
Ginkana de arte emergente en el IVAM
Diez jóvenes artistas de la cuarta edición de PAM! PAM! ocupan los espacios no expositivos del museo.
Le Parisien
Deux livres, une exposition, un film… les derniers secrets de La Callas
Tom Volf poursuit la diffusion de sa recherche menée pendant quatre ans autour de Maria Callas avec dès la rentrée deux livres, un coffret de disques et une exposition à la Seine Musicale.
Le Parisien
Mort de Pierre Henry, compositeur de la célèbre «Messe pour le temps présent»
Parfois considéré comme le «grand-père de la techno», Pierre Henry préférait se définir, sans modestie, comme le «père de la musique moderne».
Twitter

Music History @today_classical
#Today in 1860 Birth of Austrian #composer and conductor Gustav #Mahler. #MusicHistory #classicalmusic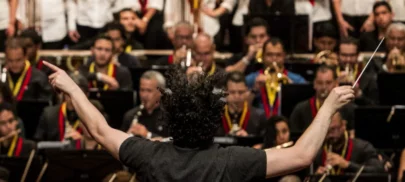 © EPA/Miguel Gutiérrez