Classical News
In our news today, a new film will show the history of the Sydney Opera House, Sir Simon Rattle comments on his return to London & Lang Lang will make his New Zealand recital debut. Also, Sir Peter Maxwell Davies' final completed composition is an opera for kids & the Detroit Symphony Orchestra will perform David Bowie's work.
The Guardian
New feature film to tell of architect's struggle for the Sydney Opera House
The controversial history behind one of the world's most recognisable buildings, the Sydney Opera House is to be the subject of a new feature film made by an international team.
EveningStandard
Sir Simon Rattle: 'Music can't be a matter of privilege or chance'
As Sir Simon Rattle prepares to pick up the baton at the LSO, 'the Benedict Cumberbatch of classical' talks about making London the music capital of the world — with a concert hall for the 21st century.
International Arts Manager
Lang Lang to make New Zealand debut
Lang Lang will make his New Zealand recital debut, 12 years after the Chinese pianist first played in the country with New Zealand Symphony Orchestra under the baton of Edo de Waart. The concert at Aukland's Civic Theatre on 12 June will include Chopin's Scherzos as well as Tchaikovsky's The Seasons. It comes at the end of a tour that has taken him from Chicago to Australasia via China.
Maxwell Davies' final work is an opera for kids
Sir Peter Maxwell Davies' final completed composition will receive its world premiere in London later this month.The Hogboon is an opera for children, based on a Scottish folk tale taken from Maxwell's home in Orkney. The premiere takes place at Barbican Centre on 26 June, three months after he died following a battle with cancer.
Huffington Post
Detroit Symphony Orchestra Set to Perform The Music of David Bowie, Guest Conductor Brent Havens Talks of Orchestrating the Works of this Musical Genius
David Bowie was one of those figures that we all felt like was immortal, something beyond just a regular human. He lived life outside of the social bounds of gender, sexuality, understanding, and love.
TheaterJones
Concerns from Women Conductors
As The Dallas Opera prepares to announce the second class of participants for the Linda and Mitch Hart Institute for Women Conductors, General Director and CEO Keith Cerny reflects on continuing challenges cited in the application process.
Third Sector
Royal Opera House paid music director Sir Antonio Pappano more than £730k last year
Sir Antonio Pappano, music director at the Royal Opera House, was paid £737,424 by the charity in 2014/15, an increase of almost £200,000 on the previous year. The charity's latest set of accounts, for the year to the end of August 2015, show Pappano received a basic salary of £104,186 plus fees of £633,238.
klassik.com
Volkstheater Rostock: Intendant Latchinian fristlos entlassen
Der Hauptausschuss der Rostocker Bürgerschaft hat die fristlose Entlassung des Volkstheater-Intendanten Sewan Latchinian beschlossen.
pizzicato
Arzberger-Verfahren in New York erneut vertagt
Das Bezirksgericht von New York hat nach Beratung am letzten Verhandlungstag die Anhörung um Stefan Arzberger erneut vertagt.
Musik heute
Dach der Leipziger Oper wird Bienen-Quartier
Auf dem Dach der Leipziger Oper summen jetzt Bienen. Das Musiktheater und der Naturschutzbund (NABU) Sachsen siedelten dort am Montag ein erstes Volk mit 2.000 Tieren an.
Twitter
The Royal Opera @TheRoyalOpera Shining a spotlight on opera's bad guys A musical highlight from Verdi's Nabucco: http://www.roh.org.uk/news/verdis-nabucco-musical-highlight-donna-chi-sei … #ROHnabucco ^M
Top Classical News @topcmnews Celebrated young pianist returns to Detroit to make classical music cool again – Michigan Radio http://bit.ly/1Uv4qaO  #ClassicalMusic
Classic FM @ClassicFM Norwegian Henning Kraggerud plays Mozart like a dream. Hear him shortly with @JohnSuchet1: http://classfm.co/JohnS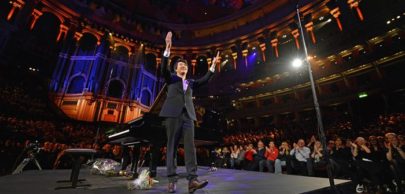 Photograph: International Arts Manager