In today's news: France Musique's new website, Tom Service is appointed music professor at Gresham College, conductor Jonathan Sternberg has passed away, Michael Hann examines the National and Bon Iver's open-access publishing platform. The violinist Carolin Widmann about responsibilities as an artist and teacher. The Theater Augsuburg is taking the last hurdles to being funded by the state. Karl-Heinz Steffens is leaving the Staatsphilarmonie Rheinland Pfalz, and Esa-Pekka Salonen is leaving New York. At the Radio France Festival all 555 Sonatas of Scarlatti will be played.
Planet Hugill
France Musique launches English language website
The French broadcaster has launched an English language website which provides a welter of on-line resources and concerts.
Gramophone
Conductor Jonathan Sternberg has died at the age of 98
The New York-born conductor was a pioneering figure in the early years of the LP era. He made a number of premiere recordings with the Vienna State Opera Orchestra and Vienna Symphony Orchestra, and also conducted the European premieres of several contemporary American works.
Rhinegold
Tom Service appointed music professor at Gresham College
Tom Service has joined Gresham College's music professorship, which dates back to 1597. As Gresham professor of music, the journalist and BBC presenter will deliver free public lectures, which will be live-streamed and made available on YouTube.
The Guardian
People: how the National and Bon Iver's streaming service frees musicians
Can the new, open-access audio 'publishing platform' attract more than just superfans of its indie-rock creators?
Guildhall School of Music & Drama
Guildhall wins teaching excellence Gold Award
Employability and student satisfaction of Guildhall students recognised in highest government ranking.
New York Times
A Manifesto for a 21st-Century Concert. (Drinks Allowed.)
"The concert experience has become predictable," the composer and conductor Esa-Pekka Salonen said this week. "I'm not talking about artistic quality or content of the program, but the ritual itself. It's quite predictable — and, visually, mostly dead boring, to be totally honest."
Nmz
"Vielleicht müssen wir uns viel stärker einmischen"
In allen Stilen ist sie zu Hause, der Gegenwartsmusik fühlt sie sich besonders verpflichtet: die Geigerin Carolin Widmann.
Klassik.com
Kabinett segnet Pläne für ein Staatstheater Augsburg ab
Das Bayerische Kabinett hat der Umwandlung des Theaters Augsburg in ein Staatstheater zugestimmt.
Klassik-Heute
Abschied von Karl-Heinz Steffens in Mannheim
Unter der Leitung von Karl-Heinz Steffens, der die Staatsphilharmonie Rheinland-Pfalz zu einem herausragenden Orchester formte und das Konzertleben in der Metropolregion Rhein-Neckar mit attraktiven Programmen facettenreich gestaltete, verabschiedet sich der Chefdirigent und Generalmusikdirektor nach neun Jahren vom Rosengarten-Publikum.
France musique
Le pari fou de l'été : jouer les 555 sonates de Scarlatti
En juillet 2018, le Festival Radio France Occitanie Montpellier et France Musique lancent un pari un peu fou : interpréter et enregistrer les 555 sonates de Domenico Scarlatti.
Twitter
We are very excited to launch the Overseas Journal commission & £1000 #ROSLReadersAward with @CainePrize to offer ROSL members the chance to vote for their favourite #CainePrize2018 story by 25 June. For the stories & more info visit – https://t.co/bQU3Qr4bUc #writingcompetition

— ROSL ARTS (@ROSLARTS) June 7, 2018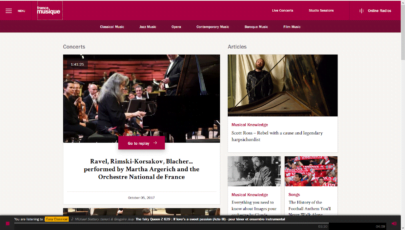 France Musique's new English language website © Planet Hugill