Classical News
In today's classical news, Royal College of Music appoints two new cellists to its string faculty and Joseph W. Polisi, the current president of Juilliard School, is to step down from his role in June 2018, when he would have held office for 34 years, making him the New York music school's longest-serving president. Also, Grand Union Orchestra is commemorating the 80th anniversary of Battle of Cable Street by holding a ten-day festival.
The Strad
London's Royal College of Music appoints cello professors Raphael Wallfisch and Jakob Kullberg
London's Royal College of Music has appointed two new professors to its string faculty – cellists Raphael Wallfisch (pictured) and Jakob Kullberg.
Juilliard School president Joseph W. Polisi to step down in 2018
The New York music school's sixth president will have held office for 34 years
Classical Music Magazine
Grand Union Orchestra to commemorate Battle of Cable Street
The Grand Union Orchestra (GUO) is marking the 80th anniversary of the battle of Cable Street with a ten-day festival. The festival will culminate in two world music performances entitled 'Remembering Cable Street' on 8 and 9 October.
Choir and Organ Magazine
Choral Evensong celebrates 90th anniversary
Choral Evensong will celebrate its 90th anniversary on 7 October. The programme, which is the longest-running outside broadcast in the BBC's history, has presented live weekly broadcasts of Evensongs from around the country since October 1926, initially on the National Programme, before moving to Radio 3 in 1970.
The Bolton News
Night of film and classic music to boost brain charity
Musicians and singers from across Greater Manchester and beyond will be bringing together classics and big screen favourites for a night of music in Bolton. A Musical Showcase plans to raise the roof tomorrow at the Victoria Hall in aid of the Brain Research Trust, a charity which supports research into neurological conditions, including dementia. The show, which starts at 7.30pm, will see a collection of well-known groups and performers taking to the stage.
Music Feeds
ARIA Awards Criticised For Awarding Best Classical Album To Flight Facilities
Earlier in the week, Flight Facilities surprised even themselves by taking home the ARIA Award for Best Classical Album a year after they were nominated for Best Dance Release, and the classical music community isn't too happy about it.
The Violin Channel
St Paul Chamber Orchestra Announce Newest Violin Recruit
The Saint Paul Chamber Orchestra has announced the appointment of Korean-American violinist Eunice Kim to the ensemble on Thursday. A graduate of the Curtis Institute of Music, where she studied with respected pedagogue Ida Kavafian, Eunice is a former 1st prize winner at the Astral National Auditions.
Stv.tv
RSNO: Celebrating 125 years of Scotland's national orchestra
The ensemble came together in the mid 1800s, but was officially established in 1891. It has featured some of classical music's most influential figures, and performed work around the world by nearly every iconic composer.
Berliner Zeitung
Kirill Petrenko : "Ich bin immer noch geschockt"
Am Donnerstag unterschrieb Kirill Petrenko (44) seinen unbefristeten Vertrag als künftiger Chefdirigent der Berliner Philharmoniker.
nmz
Geldmangel: Dresdner Kreuzchor verschiebt Adventskonzert im Stadion
Der Dresdner Kreuzchor muss mangels Geld sein für den 22. Dezember geplantes Adventskonzert im Stadion um ein Jahr verschieben. Es sei nicht gelungen, die bestehende Finanzierungslücke im fünfstelligen Bereich zu schließen.
klassik.com
Placido Domingo bleibt Generaldirektor der Oper Los Angeles
Der Sänger hat seinen Vertrag als Generaldirektor an der Oper Los Angeles um weitere drei Jahre verlängert.
Twitter
Harvard University @Harvard Book on African-Americans in classical music puts contemporary debates in the context of historical racial exclusion https://t.co/vrDo1TQEj3
Classical Music @ClassicalMusic_ .@HelpMusiciansUK launches first national grants programme https://t.co/lq9MWjCvKY
Classic FM @ClassicFM Our charity busking session is underway! http://classfm.co/NUTnuW @makenoise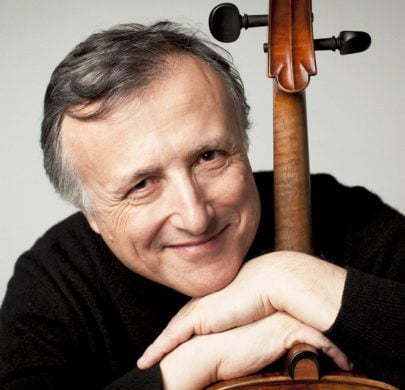 Photo: Benjamin Ealovega