In today's news, a free online music app, Classical 100 increases its popularity in over 3,000 UK primary schools. Royal Albert Hall conducts study on gender association with various instruments, and Classical:Next announces the 2017 live performances at their conference. The Music Institute of Chicago appoints Venezuelan cellist Horacio Contreras to their Academy programme for gifted pre-college students, and today John Williams celebrates his 85th birthday. Yasuhisa Toyota's unique concert hall designs engage audiences on a higher level.
Rhinegold
Royal Albert Hall survey reveals instrument gender bias
A study conducted by the Royal Albert Hall has revealed that brass instruments are associated with men, and string instruments with women. Of the 2,000 adults who took the survey, only 2% linked the trumpet with women and 3% thought that women were likely to play the French horn and the tuba.
Two thousand schools in England signed up for Classical 100
Over 3,000 schools and 5,000 teachers have now signed up for Classical 100 – a free online music app for UK primary schools created by ABRSM, Classic FM and Decca, and supported by the Department for Education.
The New Yorker
THE ARDOR OF JANE LITTLE, A WORLD-RECORD-SETTING ORCHESTRA MUSICIAN
Jane Little died like a warrior on the field of valor, clutching her bow so tightly that it had to be pried from her cold fingers. Her field was the stage of the Atlanta Symphony, in which she had played the bass from the age of sixteen until she keeled over in the middle of a performance, last year, at eighty-seven, having won a title that she had long coveted: the American musician with the longest tenure in any orchestra.
International Arts Manager
Classical:NEXT's new adventure
Classical:NEXT has announced that its 2017 conference will include a new mini-festival. Titled 'Seriously? – Adventures in Music', it will see six showcase artists from Classical:NEXT's programme perform for a public audience, along with groups such as Rotterdam Philharmonic Orchestra. The selected artists are collectif9 (Canada), Jerez Le Cam Quartet (Argentina/France/Belgium), Park Jiha (South Korea), Sven Helbig (Germany), Trip Trip Trip (Columbia) and Zwerm (Belgium).
The Strad
Venezuelan cellist Horacio Contreras joins Music Institute of Chicago faculty
The Music Institute of Chicago has appointed Venezuelan cellist Horacio Contreras to the faculty of its Community Music School and Academy programme for gifted pre-college students.
The Guardian
Study challenges view of arts subjects being pushed out of education
Arts subjects remain as popular as ever among pupils taking GCSEs in England, research has found, challenging the view that the government's policies are forcing subjects such as drama and music out of classrooms in favour of subjects considered more academic.
Merkur
Klage gegen Konzertsaal-Wettbewerb
Kommentar: Kulturkrampf um Braunfels
Neue Musikzeitung
Dresden rechnet mit «sportlichem Finale» bei Umbau des Kulturpalastes
Dresden will den Umbau seines Kulturpalastes pünktlich abschließen, rechnet aber mit einem «sportlichen» Finale.
Deutschlandradio Kultur
Grand Prix of Nations in Berlin
Seit 1988 trägt Interkultur internationale Chorwettbewerbe aus. In der vergangenen Woche fand der Grand Prix of Nations erstmals in Berlin statt: Dreißig Chöre aus 15 Ländern präsentierten in der Philharmonie ihr Können und ihre jeweilige Gesangskultur.
The Washington Post
Concert halls call on this Japanese engineer to shape sound
Behind some of the world's most reputed concert halls is a Japanese engineer whose finesse in shaping sound is so perfectly unobtrusive that all listeners hear is the music — in all its subtlety, texture and fullness.
Pizzicato
Moscow's Subway Organizes Competition For Musicians
A professional jury has been set up to select musicians who will be allowed to play in the subway stations in Moscow.
Twitter
Music History @today_classical #Today in 1908 FP of #Rachmaninov's Symphony No. 2 in St. Petersburg. Composer conducting. #MusicHistory #classicalmusic
Classic FM @ClassicFM Happy 85th birthday to the great John Williams! Tune on now for an hour of his epic music! http://classfm.co/live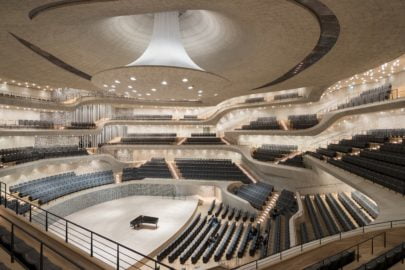 Image: Yasuhisa Toyota