Classic FM
Daniel Hope and Ludovico Einaudi for joint webcast
Daniel Hope and Ludovico Einaudi are to perform together in a Stockholm concert to be live-streamed on the internet.
Gramophone
BBC Radio 3 to broadcast every opera by Wagner, Verdi and Britten in 2013
Radio station celebrates composer anniversaries with 140 hours of operatic music
Slipped Disc
Sotheby's quits instrument auctions
The London auctioneer, one of the leading showcases for mult-million Stradivarius and Guarnerius sales, has shut down its precious instrument business to concentrate on the more profitable fine art market.
Power shifts at Universal as Max gets more headroom
Max Hole, the former rock band manager who revitalised classical labels Decca and DG in the past two years, has emerged much strengthened from an executive shuffle.
Classical Music Magazine
PRS instigates a New Music Biennial
PRS for Music Foundation has announced the formation of a New Music Biennial, starting in 2014, and is inviting organisations to submit project ideas for funding.
The National (found on Arts Journal)
Glenn Gould, the virtuoso pianist and great interpreter of Bach, once described the way recordings of music "insinuate themselves into our judgments, and into our lives," thereby giving recording artists "an awesome power that was simply not available to any earlier generation."
BBC Media Centre
Baroque Music To Tell Story Of Historic Houses: BBC Radio 3 In Partnership With The National Trust
In Spring 2013, from 3 March-1 April, as part of the BBC's commitment to music programming, BBC Radio 3 and the National Trust present six live concerts and a live drama placing baroque performance in its historical context.
The Telegraph
The opera challenge for new man Baz
New Arts Council England chief Sir Peter Bazalgette should see that a leaner, cheaper English National Opera could offer a lot more than it does at present, argues Rupert Christiansen.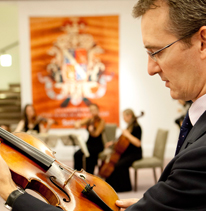 Slipped Disc