Classical News
In today's news, the Glyndebourne tour will offer a look behind the scenes of its productions, Cambridge University selects the Ligeti Quartet for its chamber music residency & Yo-Yo Ma made it his mission to to bring about peaceful change through music. Also, the Daily Telegraph explains how to vote in the EU referendum when attending Glastonbury Festival and Abbado's Orchestra Mozart returns to the  stage in January 2017.
Classical Music Magazine
Glyndebourne Tour offers a look behind the scenes
The 2016 Glyndebourne Tour will feature the company's first staging of Puccini's Madama Butterfly and the premiere of Don Giovanni: Behind the Curtain. Annilese Miskimmon's production of Madama Butterfly will be conducted by John Wilson (making his Glyndebourne debut). The cast features Karah Son as Cio-Cio-Sa, Matteo Lippi as Pinkerton, and Claudia Huckle as Suzuki.
Cambridge University selects Ligeti Quartet for chamber music residency
The Ligeti Quartet has been appointed as the inaugural holders of the Cambridge Chamber Music Residency. A statement on the university's website notes that their 'breath-taking performances, both technically and musically, coupled with outstanding artistic plans for working with student composers and performers will undoubtedly be an exciting new development in Cambridge music-making.'
BBC News
Yo-Yo Ma's musical mission for peace
Yo-Yo Ma is by far the world's best known cellist, but he's also made it his mission to bring about peaceful change through music.
The Telegraph
I'm going to Glastonbury, how do l vote in the EU referendum?
Glastonbury Festival has over the years coincided with sporting events such as Wimbledon or the European or World football cups, but this year, the UK's biggest music bash goes head to head with the biggest political event of the year. So those people lucky enough to have got a ticket for Glastonbury will also have the headache of trying to work out how to vote in the referendum on Britain's membership of the European Union, held on Thursday June 23.
pizzicato
Abbado's Orchestra Mozart returns on stage in January 2017
The Orchestra Mozart Orchestra, created in Bologna by Claudio Abbado in 2004, will resume concert activities on January 6, 2017 after three years of silence.
Road in White Plains, NY, Named After Kurt Masur
A road in White Plains, NY, has been called after the late German conductor Kurt Masur. The Masur family owned a house there, since their son, Ken-David, attended the German Language School in White Plains.
Musik heute
Auktionshaus Christie's stellt Bach-Manuskript aus
Das Auktionshaus Christies stellt kurzzeitig das Manuskript von Johann Sebastian Bachs Präludium, Fuge und Allegro Es-Dur BWV 998 aus.
BR_KLASSIK
"Masur Drive" in New York eingeweiht
Zum Gedenken an den verstorbenen Kurt Masur wurde in White Plains nahe New York City nun eine Straße nach dem Dirigenten benannt. Sie liegt an einem Ort, der für die Familie Masur auch persönlich von großer Bedeutung ist.
klassik.com
Restaurierte 340 Jahre alte Richborn-Orgel in Mecklenburg eingeweiht
Die restaurierte Richborn-Orgel hat im mecklenburgischen Dorf Ruchow ihre Einweihung gefeiert.
Twitter
Glastonbury Festival @GlastoFest This year's @glastotandc flashmob dance is a tribute to Bowie. If you're coming to #Glastonbury2016 learn the moves!
Glyndebourne @glyndebourne Two weeks until our live cinema screenings of Il barbiere di Siviglia. Find one near you: http://ow.ly/AGK9300wGvB 
Top Classical News @topcmnews Richly imaginative – Mascagni's Iris open's Opera Holland Park's 21st season http://bit.ly/24yuzv6  #ClassicalMusic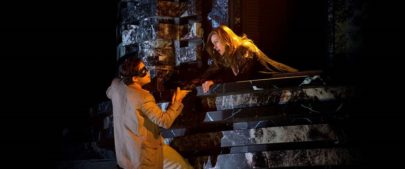 Photograph: Bill Cooper