Classical News
In our news today, a silent orchestra will perform at Times Square in New York City, orchestras embrace virtual reality & the Arts Council England is awarding a total of £5.3m to 40 organisations in a bid to improve diversity in the arts and culture sector. Also, Paul MacAlindin's new book tells the story about the creation of the National Youth Orchestra of Iraq.
Time Out
A silent orchestra will perform in the middle of Times Square
If news of the silent dance party happening in Coney Island at the end of August whet your appetite for more live music delivered via headphones, you're in luck. On August 21 and 22 at 11pm, composer Jherek Bischoff and his Silent Orchestra ensemble, playing electronic orchestral instruments, will deliver his piece Cistern to an audience wearing wireless headphones.
The Guardian
Symphonies in space: orchestras embrace virtual reality
On Saturday in New York, the Hubble Cantata saw audience members explore the Orion Nebula while a new piece of music played – the latest in a series of experiments between VR technology and classical music.
Classical Music Magazine
Arts Council announces Elevate grants
Arts Council England is awarding a total of £5.3m to 40 organisations in a bid to improve diversity in the arts and culture sector. Launched in 2014 in response to an equality analysis led by the Arts Council in 2014, Elevate funding aims to strengthen the resilience of organisations already contributing to enhancing diversity within the sector.
The Telegraph
War, broken lives and the bravest youth orchestra in the world
How does one create a national youth orchestra in the middle of a war zone? It's a question that still puzzles Scottish conductor Paul MacAlindin, who gave five years of his life to what some would call a utopian dream, others sheer folly.
Penarth Times
Cape Town Opera bring Nelson Mandela's life to the stage
Wales Millennium Centre and Cape Town Opera will welcome the return of Mandela Trilogy, opening at Wales Millennium Centre from August 24 to 27.
The Strad
US Library of Congress to buy David Bromberg's collection of over 250 American violins
The US Library of Congress plans to acquire a collection of 263 American violins owned by guitar virtuoso and violin dealer David Bromberg for $1.5m, according to NPR Music.
Broadwayworld
San Diego Women's Chorus Extends Search for Assistant to Artistic Director
The San Diego Women's Chorus (SDWC) is seeking an Assistant to the Artistic Director to support the artistic mission of the growing musical organization.
The Vancouver Sun
Auction giant Poly brings renowned Chinese orchestra for Vancouver opening
Poly Culture Group, which operates the world's third-largest auction house as well as China's largest theatre operations and management network, will bring the China Philharmonic Orchestra to Vancouver for a performance at UBC's Chan Centre on Nov. 30.
Musik heute
Noch kein Termin für Wiedereröffnung der Kölner Oper
Für die Wiedereröffnung der Kölner Oper und des Schauspielhauses gibt es noch keinen Termin. Zur Zeit sei nicht abzusehen, wie viele Jahre der Umbau noch in Anspruch nehmen werde.
Klassik heute
Rund 2,65 Millionen Euro für Musikschulen in Hessen
Das Hessische Ministerium für Wissenschaft und Kunst unterstützt in diesem Jahr die öffentlichen Musikschulen im Land mit rund 2,65 Millionen Euro. Damit stehen 650.000 Euro mehr für die musikalische Bildung zur Verfügung als noch im Jahr 2014.
Deutschlandradio Kultur
Brasiliens wahres Volksinstrument
In Deutschland ist die Viola Caipira nahezu unbekannt – anders ist das in Brasilien: Hier ist die "Gitarre des Bauern" besonders populär. Was unterscheidet das Instrument von einer klassischen Gitarre und wie kommt es zu seinem ungewöhnlichen Namen?
Twitter
Steinway & Sons @SteinwayAndSons #SteinwayArtists @andersonroe redefine the lines of classical music with their performances http://bit.ly/2b6FIko 
Classical Music @ClassicalMusic_ Paul Robertson, leader and founder of the Medici String Quartet, has died aged 63 http://ow.ly/ievt3032hVb 
edintfest @edintfest Another wonderful day of music, opera, dance, & cabaret at #EdIntFest. http://eif.buzz/1GySpjS  ^F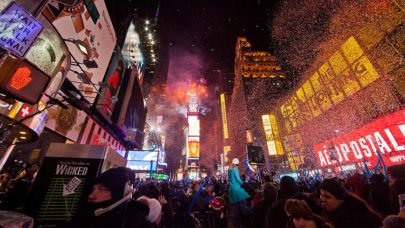 Photograph: Courtesy CC/Flickr/Anthony Quintano