Gramophone
São Paulo Symphony Orchestra to record complete Villa-Lobos Symphonies
Naxos project will use entirely re-edited versions of the scores
Classic FM
Lindsey Stirling embraces video game music in Assassin's Creed video
The latest high-concept video from violinist Lindsey Stirling celebrates music from the Assassin's Creed video games.
Jeff Wayne re-imagines War Of The Worlds with Gary Barlow and Liam Neeson
Classic FM speaks to Jeff Wayne about the latest incarnation of his musical version of H.G. Wells' War Of The Worlds, featuring Gary Barlow and Liam Neeson.
Classical stars light up Regent Street
Tine Ting Helseth and Noah Stewart will join Classic FM presenters John Suchet and Jamie Crick at the iconic Regent Street Christmas lights switch-on on Tuesday 13 November
Slipped Disc
Breakthrough! Orchestra to play off digital music stands
The Brussels Philharmonic has become the world's first orchestra to abandon paper scores and play from a digital screen.
Deceptive Cadence
'A Late Quartet': Melodrama With A Pounding Musical Heart
After a quarter century together as one of the world's top chamber music ensembles, the Fugue String Quartet is falling apart at the seams. A generation older than his colleagues, cellist Peter (Christopher Walken) is experiencing the early symptoms of Parkinson's, and with his sudden retirement, a morass of long-buried resentments and pain come spewing out of his three younger partners: first violinist Daniel (Mark Ivanir), second violinist Robert (Philip Seymour Hoffman) and violist Juliette (Catherine Keener).
The Guardian
Toby Spence: 'I'll never take my voice for granted again'
Back on stage in the Metropolitan Opera's Tempest, Toby Spence tells Tom Service about his recovery from cancer and surviving the storm
Boston.com
Holocaust opera to premiere in Austrian parliament
An opera focusing on Nazi atrocities against children will premiere next year at an unusual venue — Austria's parliament.
Opera Now
Picasso inspires new Dublin Carmen 
International Leisure and Arts, Ireland's foremost producer of international ballet, have announced their move into opera with a new production of Carmen by the Moscow State Opera – coming to Dublin in March 2013.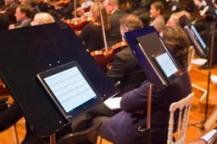 RTL.de (via Slipped Disc)