In today's news: the funding for the next European youth choir festival in Basel is secured, Academy of Ancient Music announces partnership with Chiltern Arts. In Munich, faculty members of music colleges are protesting low wages. The Columbus Symphony Orchestra is extending its contract with Rossen Milanov. A feature on composing and political stance and sexual misconduct at Berklee Music College. Spotify starts selling Makeup.
Classical Music
Academy of Ancient Music and Chiltern Arts announce partnership
The Academy of Ancient Music is to become orchestra in residence at Chiltern Arts Festival.
Choir and Organ
Leicester MusicFest organ competition
The second Leicester MusicFest will include a pipe organ competition.
Opera Now
Glyndebourne Tour to visit Liverpool in 2019
The Glyndebourne Tour is to visit Liverpool's Empire Theatre – the biggest two-tier theatre in the country – for the first time in 2019.
Classic FM
Flight of the Bumblebee for a marimba and 4 mallets is crazier than you're expecting
Rimsky-Korsakov's notoriously fiendish piece sounds absolutely mad in this one-man arrangement for marimba and four mallets.
Forbes
Spotify Is Selling Makeup Now, And That Could Change Things For The Music Industry
Spotify isn't known primarily as a retailer, even though music fans can purchase items from the streaming site, but as of today, it has taken another step towards becoming more of a shopping destination of sorts.
Pizzicato
Columbus Symphony extends contract of Rossen Milanov
Rossen Milanov's contract as Music Director of the Columbus Symphony has been extended through the 2024-25 season, the orchestra announced.
New York Times
Three Composers on the Necessity and Pitfalls of Political Music
When classical music composers get political, they often do it at the risk of preaching to the proverbial choir.
WCVB5
Berklee says 11 faculty members were fired over 13 years for sexual assault, harassment
A prestigious music school in Boston will hold a campus forum following a newspaper investigation that found the college allowed three professors to quietly leave the school after students complained the men had sexually harassed or assaulted them.
Codex flores
Finanzierung des 11. Europäischen Jugendchor Festivals Basel gesichert
Die Finanzierung des 11. Europäischen Jugendchor Festival Basel (EJCF) – es findet über die Auf­fahrtstage vom 9. Mai – 13. Mai 2018 in Basel und der Region statt – ist gesichert.
Klassik.com
Lehrbeauftragte an bayerischen Musikhochschulen demonstrieren
Lehrbeauftragte bayerischer Musikhochschulen haben mit einer Demonstration gegen Pläne der bayerischen Landesregierung protestiert. 
Neue Musikzeitung
Braunschweiger Sing-Projekt mit Kulturpreis ausgezeichnet
Das Braunschweiger Schulprojekt «Klasse! Wir singen» ist mit dem Initiativpreis Deutsche Sprache ausgezeichnet worden. 
Twitter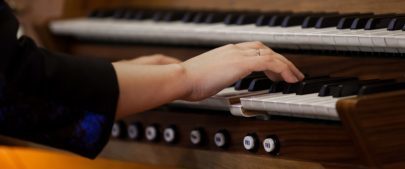 Image: Choir and Organ