Classical News
Guardian
Al Bustan – the classical music festival in Beirut that survives war and assassinations
In its 22 years, the festival has cancelled only a single concert. As its founder says: 'Every year there's some crisis and we say: "My God, are we going to carry on?" and we always do'
The London Bach finally gets his London revival
The city where the young Mozart spent a year in the 1760s was also home to "the London Bach" – Johann Christian. Mozart held him and his music in the highest regard, so why have Londoners heard so little of the older composer?
Independent
El Sistema 40th anniversary: Conductor Gustavo Dudamel says Venezuela project is "the most important thing apart from my family"
The widely-admired national programme -which was set up in 1975 by José Antonio Abreu – exposes hundreds of thousands of children to music, teaching them instruments and letting them play in orchestras
Telegraph
Why American football players make perfect opera singers
The unusual story of an American football star turned opera singer proves that there is a deep affinity between music and sport, says Ivan Hewett
Classical Source
National Youth Orchestra of Great Britain launches its first Inspire Orchestra
'NYO Inspire Orchestra' to tour secondary schools enabling more young musicians than ever to have breakthrough orchestral experience of NYO, and give more teenagers the chance to hear the power of brilliantly-played live orchestral music
Frankfurter Allgemeine Zeitung
Mit dem "Living Theatre" erfand Judith Malina eine radikale, experimentierfreudige und dezidiert politische Form des Theaters. Jetzt ist sie im Alter von 88 Jahren gestorben.
klassik.com
Südwestdeutsche Philharmonie: Intendant fordert neuen Konzertsaal
Der Intendant der Südwestdeutschen Philharmonie Beat Fehlmann hat laut Berichten des Südkuriers einen neuen Konzertsaal für Konstanz gefordert.
MUSIK HEUTE
Elbphilharmonie-Intendant: Jeder wird sich eine Karte leisten können
Der Intendant der Elbphilharmonie, Christoph Lieben-Seutter, will das Konzertgebäude im Hamburger Hafen zu einem Haus für alle machen.
Codex flores
Aus dem SOZ werden die Zürcher Symphoniker
Langjährige Musiker des früheren Symphonischen Orchesters Zürich haben sich in einem Trägerverein wieder formiert und wagen den Neustart. Das Ensemble war vor zwei Jahren wegen Lohndumpings im Rahmen einer Aida-Aufführung beim Festival La Perla in Pfäffikon in Misskredit geraten.
The New York Times
Milton Delugg, Accordionist, Composer and 'Tonight Show' Bandleader, Dies at 96
Milton Delugg, who accompanied Al Jolson on the accordion, co-wrote the Nat King Cole hit "Orange Colored Sky" conducted the band for Johnny Carson's "The Tonight Show" and was musical director of the Macy's Thanksgiving Day Parade for three decades, died on April 6 at his home in Los Angeles.
Twitter
Royal Opera House @RoyalOperaHouse: ICYMI – This week's #CultureDebate is now on demand @YouTube: http://www.roh.org.uk/news/watch-pre-election-culture-debate-on-arts-and-heritage-policy … #election2015 #politics ^C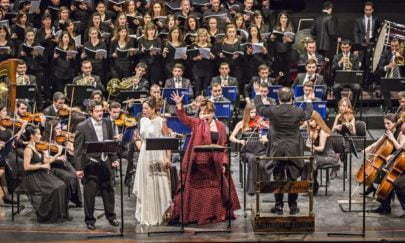 Carmen Giannattasio (in red) duets with Nino Surguladze in a concert performance of Bellini's 
Norma
 at the festival. Photograph: Al Bustan