In today's news: Alison Balsom calls British Airways a "greedy disgrace", Joseph Colaneri denies allegations of sexual misconduct, new startup syncing music to activities launched. Also, Zubin Mehta cancels concerts with Berliner Philharmoniker, Costa Pilavachi joins RSNO board of directors and conductor Barenboim speaks out for recognition of the state of Palestine.
The Telegraph
'Trumpet crumpet' Alison Balsom leads revolt against British Airways over 'greedy' musical instrument charge 
British Airways has been branded a "greedy disgrace" by one of the world's leading classical musicians after the airline apparently announced it was charging for smaller instruments brought on board.
Classic FM
Met Opera conductor Joseph Colaneri denies allegations of sexual misconduct 
A pianist has accused Joseph Colaneri of exposing himself to her at a performance of La Traviata in 2001. He denies the allegations. 
Classical Music
Costa Pilavachi joins RSNO board
Costa Pilavachi, former senior vice-president of Universal Music and August's CM guest editor, has joined the Royal Scottish National Orchestra's (RSNO) board of directors.
Music Business Worldwide
UK Music Business Accused of 'Endemic Sexual Assault and Abuse' in BBC TV Show
Four prominent UK music industry figures have told their personal stories to the BBC – including experiences of serious sexual misconduct by males in positions of power.
Forbes
Bedroom BPM: Meet The Startup Syncing Music To Running, Skiing And–Yes–Sex
Rasmussen—who was working at Facebook in London after creating the technology behind Google Maps in the mid 2000s—and marketing guru Visviki decided to develop a product that changes the tempo of music to fit physical activity.
Klassik.Com
Zubin Mehta sagt Konzerte mit Berliner Philharmonikern ab
Zubin Mehta (81) hat seine für Februar 2018 geplanten Auftritte mit den Berliner Philharmonikern abgesagt. Der Dirigent laboriert an den Folgen einer Schulterverletzung und musste bereits mehrere Konzerte mit anderen Klangkörpern streichen.
nmz
Bundesverband Musikindustrie baut Verbandsstruktur um
Der Bundesverband Musikindustrie (BVMI) ordnet die Verbandsstruktur neu: Die Bereiche "Recht & Politik" sowie der "Deutsche Musikpreis ECHO" werden stärker betont.
Grieche Myron Michailidis wird neuer Generalmusikdirektor am Theater Erfurt
Der griechische Dirigent Myron Michailidis wird ab der Spielzeit 2018/19 Generalmusikdirektor am Theater Erfurt.
Musik Heute
Dirigent Barenboim für Anerkennung des Staates Palästina
Der Dirigent und Pianist Daniel Barenboim (75) hat sich für die internationale Anerkennung des Staates Palästina ausgesprochen.
Platea Magazine
Gustavo Dudamel, detrás del nuevo "Cascanueces" de Disney con Keira Knightley y Morgan Freeman 
El director de orquesta venezolano Gustavo Dudamel dirige la banda sonora, con la conocida música del ballet de Tchaikovsky, de la nueva producción de Disnet "The Nutckracker and the four Realms" (El Cascanueces y los cuatro reinos).
Twitter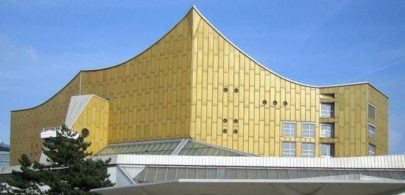 Image: Philharmonie Berlin © Klassik.Com/Manfred Brückels