Last weekend I was in France engaged as a member of the jury for the second edition of the Marie Cantagrill International Violin Competition. As with most violin competitions, all candidates had to perform a Paganini Caprice of their choice, some solo Bach as well as a concerto of their choice. However there was a piece they all had to play: my Souvenirs opus 49 for violin and piano.
Souvenirs is a lyrical five minute composition which was written and premiered in 2008 and has since become popular with many violinists worldwide. I have heard it performed many times since its premiere, but having the chance to hear it played eleven times by as many violinists in a single day was something new and exciting!
There were three main prizes as well as a special prize for the best interpretation of the contemporary piece. We were a panel of seven judges from several countries but I was told that for the Contemporary prize, as it was my own composition, I would have the final say of who was to win. No pressure…
It was a real pleasure to hear all these young violinists play my music with the utmost concentration and intensity and I must admit that it was hard to decide on a winner when so many played so well. Maybe not surprisingly I found that the best performance of my piece was to be found in one of the three winners of the competition. Cyprien Brod (who won the first prize of the competition and is a 19 years old from Paris) was impressive in everything he played, from Bach, to Paganini, to Sibelius concerto and my Souvenirs. The second prize of the Competition was given to Aoife Ni Bhriain, a 23 year old Irish girl from Leipzig who played with great musicality and involvement but less overall perfection than Cyprien on that day. Sara Valencia, a 14 year old from Spain took the third prize of the competition. She still needs to clean some aspects of her technique but was pure fire and will go very far.
As a composer I am always touched by all the musicians who play my music with dedication and soul and so found that decision difficult to make. The majority of the other judges thought that Cyprien deserved my Prize because they thought that he was the person who brought the right atmosphere to the piece. In order to make a final decision I decided to look at the notes I made immediately after I heard the candidates perform my piece.
Of Cyprien Brod's performance of Souvenirs I had written: "the tempo is a bit fast but he plays my music exactly as I would do it". What more could be said… He won the prize.

This competition was a great experience for me. I befriended really interesting musicians on the jury panel and discovered some fantastic young players. Next year one of my solo cello pieces will be in the first round of a major International Cello competition and around 70 cellists will perform it. After my experience of the Marie Cantagrill Competition I cannot wait!
If you are interested in listening to my piece Souvenirs, please click on the recording below:
Nimrod Borenstein: Souvenirs opus 49 for violin and piano
Irmina Trynkos violin
Tomasz Lis piano
Listen to an interview with Marie Cantagrill here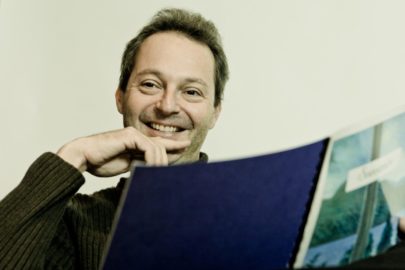 Nimrod Borenstein
Photograph: Synced Films