The conductor and composer André Previn has died at the age of 89. The German-born musician was an extraordinary and versatile talent who blurred the boundaries between jazz, pop, film and classical music.
Previn was born in Berlin in 1929, but his family fled Nazi Germany for the US, and he became an American citizen in 1943. He grew up in Los Angeles and, while still in his teens, started writing film scores and working as a jazz pianist, appearing with Ella Fitzgerald, among others. During military service in the early 50s, he took conducting lessons with Pierre Monteux, and, at the age of 32, abandoned Hollywood to concentrate on a classical career. "At MGM, you knew you were going to be working next year, you knew you were going to get paid. But I was too ambitious musically to settle for it. And I wanted to gamble with whatever talent I might have had," he told a Guardian interviewer in 2008.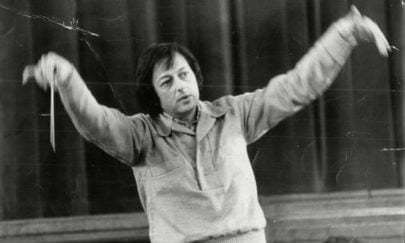 In 1967, Previn succeeded Sir John Barbirolli as music director of the Houston Symphony Orchestra. The following year he was appointed principal conductor of the London Symphony Orchestra, a post he held for 11 years.
During his time in London, he did much to broaden the orchestra's reach with regular television appearances including the BBC's weekly André Previn's Music Night, which ran weekly in a primetime slot on Saturday evenings during the early- to mid-70s. More people watched the LSO on Music Night in one week than in 65 years of concerts, and he and the orchestra made an average of 14 albums a year.
His close relationship with the orchestra continued throughout his life. He was made conductor laureate in 1992 and conductor emeritus in 2016, and last conducted them in London in 2015.
We are deeply saddened to hear of the death this morning of our Conductor Emeritus André Previn. He will be hugely missed by everyone at the LSO and remembered with great affection. May he always play all the right notes in the right order. Tribute: https://t.co/GJ4OG9aoIj pic.twitter.com/ybK4dKBuoS

— London Symphony Orch (@londonsymphony) February 28, 2019
From 1976-84, Previn was music director of the Pittsburgh Symphony Orchestra, and between 1985-88, principal conductor of the Royal Philharmonic Orchestra. A spell as music director of the Los Angeles Philharmonic in the late 80s was cut short when he resigned following a disagreement over the appointment of his successor. In recent years, he was music director of the Oslo Philharmonic (2002 to 2006), and in 2009 was appointed Principal Guest Conductor of Tokyo's NHK Symphony Orchestra.
His first opera, A Streetcar Named Desire was premiered at San Francisco Opera in 1998 with Renée Fleming as Blanche DuBois, and he also wrote as musicals, orchestral and chamber works and several concertos, and he continued to work in Hollywood throughout his life as a score writer and arranger. He was nominated 11 times for an Oscar, winning four – for best scoring of a musical for Lerner and Loewe's Gigi and Gershwin's Porgy and Bess, and best score (adaptation or treatment) for the Billy Wilder comedy Irma la Douce, and then for George Cukor's blockbuster version of Lerner and Loewe's My Fair Lady. He also wrote song music for Paint Your Wagon, a film based on another Lerner and Loewe musical.
---
Composer and pianist Ludovico Einaudi today reveals the most ambitious project of his 30-year career; the first of its kind for any classical artist.
2019 sees the release of Seven Days Walking: seven volumes of music released over seven months. The first, Seven Days Walking: Day One, is Einaudi's 14th studio album and will be released on 15 March, on Decca. Each 'day' is then released, digitally, a month apart leading up to Day Seven, which will be released in the autumn in a box-set of the complete collection. The project features Federico Mecozzi on violin and viola and Redi Hasa on cello, alongside Ludovico on piano.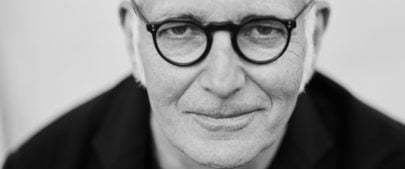 Einaudi's last album, Elements, saw him become the first classical composer in over 20 years to reach the Top 15 of the Official UK Album Charts. He will be playing two sold out live shows at London's Union Chapel on 28 and 29 March and will announce further UK 2019 dates as part of a global tour in due course.
---
Gareth Machin, artistic director of Wiltshire Creative, and guest festival director Jonathan Dove have announced the programme for the 2019 Salisbury International Arts Festival.
Taking place across a range of venues in Salisbury, Wiltshire from 24 May – 9 June, the festival marks two global anniversaries – the 1969 moon landings and the 1989 fall of the Berlin Wall – with a mix of music, film, dance, spoken word, theatre, circus, comedy and family events.
The festival will feature more than 120 events across 16 days, and will include some unusual locations including Zizzi's Italian restaurant in Salisbury for a Binaural Dinner Date (pictured).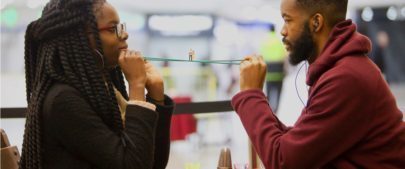 Musical highlights include: