In today's news many comment on the emotional One Love Manchester concert that took place last night, two weeks after the terror attack at Ariana Grande's concert. The Beatles' Sgt Pepper's Lonely Hearts Club Band is back at the top of the charts for the first time in 50 years, and The New York Times looks at the best moments in classical music last week.
BBC News
One Love Manchester: The most emotional moments
There were high emotions at a benefit concert staged by Ariana Grande in Manchester less than two weeks after the terror attack following her gig in the city. But the show also demonstrated the power of pop music to bring people together
Sir Jeffrey Tate: Conductor with spina bifida dies at 74
Sir Jeffrey, who was born with spina bifida, was the principal conductor of the English Chamber Orchestra and the Royal Opera House in the 1980s
The Guardian
Liam Gallagher attacks brother Noel for absence at One Love Manchester concert
Oasis brothers' feud continues as Liam says he is 'very disappointed' after Noel fails to join him for concert following Manchester Arena attack
Independent
Manchester One Love: Police dance with members of crowd at tribute concert
Footage of officer dancing with children in a circle at concert goes viral
New York Times
An Ice Cream Truck at Carnegie Hall: This Week's 8 Best Classical Music Moments
In addition to reviews, features and news during the week, our critics and reporters collect the best of what they've heard: notes that sent shivers down their spines, memorable voices, quotations that cut to the heart of the story
Uncompromising Music Survives on the Brooklyn Waterfront
There is so much new life and affluence crowding the Brooklyn waterfront that traditionalists like Mark Peskanov, the master violinist who runs the Bargemusic concerts of chamber music aboard a handsomely converted coal barge, hard by the Brooklyn Bridge, might be tempted to move. Which he has no intention of doing
Dallas News
Mozart piano concertos begin at the Cliburn competition
Starting Saturday, the semifinal round of the Van Cliburn International Piano Competition switched to a half-and-half format each day: two solo recitals each afternoon, four performances of Mozart piano concertos each evening, with Nicholas McGegan conducting the Fort Worth Symphony Orchestra
Classical Source
Royal Opera cast amendment, Otello, Ludovic Tézier
It is with deep regret that French baritone Ludovic Tézier will no longer be making his role debut as Iago in Otello on 21, 24 and 28 June, and on 2, 6 and 10 July
M Magazine
Sgt Pepper's Lonely Hearts Club Band back at number one
The Beatles' classic album Sgt Pepper's Lonely Hearts Club Band is back at the top of the charts 50 years after it was first number one
Washington Post
Can listening to nature improve how we listen to music?
As a species, we have a lot more experience listening to the wind than we do listening to our favorite songs
Twitter
Variety‏ @Variety #OneLoveManchester

: A view from backstage http://bit.ly/2qOCg41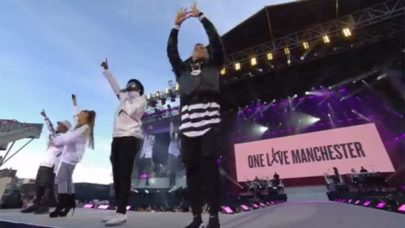 Where Is The Love? – Black Eyed Peas and Ariana Grande. Photo:
BBC News
Merken
Merken