Classical News
Guardian
Modest good news for music education as government stick to their word
Hubs funding is to increase, but Arts Council England chief Darren Henley has a fight on his hands if he is to safeguard music education
Telegraph
Is it time to end the distinction between high and low art?
Last week a British university hosted a conference on German electropop pioneers Kraftwerk. Quite right too, says Ivan Hewett
Independent
New BBC Radio 3 Controller promises more airtime to female composers
The new Controller of BBC Radio 3 has promised to give more airtime to female composers and vowed that the station will not "dumb down" in an attempt to copy commercial rival Classic FM.
The Times
Drama at the opera as another chief heads for the exit
English National Opera is feared to have lost its executive director a week after its chairman, Martyn Rose, resigned in what appears to be a civil war at the head of the company.
Classic FM
'Classical music has an image problem among some influential people', says Stephen Maddock
Chief executive of City of Birmingham Symphony Orchestra admits classical music has an image problem, but warns against 'dumbing down'.
Zeit Online
Netzbasierter Musikkonsum gibt genaue Auskunft über Vorlieben und Trends. Plattenfirmen freuen sich. Experten aber fragen sich, ob das nicht jegliche Popvielfalt tötet.
Der Tagesspiegel
Siemens Musikpreis für Christoph Eschenbach
Er wird in der Musikwelt gleichermaßen geschätzt als Pianist wie als Dirigent und Pädagoge: Jetzt erhält Christoph Eschenbach den mit 250 000 Euro dotierten Siemens Musikpreis 2015.
Klassik.com
Putin-Gegner stürmt Bühne der Metropolitan Opera
Beifall für Netrebko und Gergiev wird durch Protest gestört
Musik Heute
Frankfurter Musikpreis an Schlagzeuger Peter Sadlo
Die mit 15.000 Euro dotierte Auszeichnung wird am 17. April 2015 im Kaisersaal des Frankfurter Römers übergeben.
pizzicato
The Philadelphia Orchestra Will Begin The 2015 European Tour In Luxembourg
Their 2015 Tour of Europe brings the Philadelphia Orchestra and Music Director Yannick Nézet-Séguin to audiences in 10 cities over three weeks.
Le Figaro
Au Festival d'art lyrique d'Aix, les utopies ont droit de cité
Au programme du prochain festival, des chefs-d'œuvre, l'ouverture vers la Méditerranée et les jeunes. La location ouvre aujourd'hui.
Twitter
Classic FM @Classic FM: Is the sound of the orchestra becoming more generic? That's the first #ClassicFMDebate at #ABO15. What do you think?
CityofLondonSinfonia @CityLdnSinfonia: Where do you think is the best place to stream classical music? Good weigh up from @SinfiniMusic in this feature: http://bit.ly/1DjAPuh 
Wigmore Hall @wigmore_hall: Unfair to single out the arts for elitism, says National Theatre director | Stage | The Guardian http://www.theguardian.com/stage/2015/jan/30/arts-elitism-social-diversity-nicholas-hytner …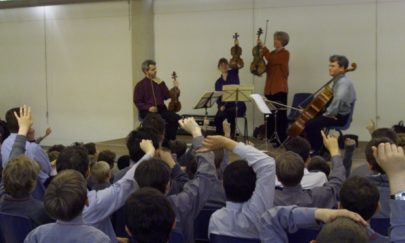 Taking music into schools – The Emperor String Quartet at North London's The Hall School. Photo: Garry Weaser/Guardian