Coronavirus: Arts venues welcome £1.57bn government support
The government has unveiled a £1.57bn support package to help protect the futures of UK theatres, galleries, museums and other cultural venues.
Culture Secretary Oliver Dowden told BBC Breakfast new grants and loans aim to preserve "crown jewels" in the UK's art sector as well as local venues.
It follows several weeks of pressure, with industry leaders warning that many venues were on the brink of collapse. Independent cinemas, heritage sites and music venues will also be eligible.
Guidance for a phased return of the performing arts, starting with performances behind closed doors and rehearsals, is expected to be published by the government shortly.
Mr Dowden said the package is all "new money" and has two broad aims – to preserve "crown jewel" venues like the Royal Albert Hall and national galleries, while also helping local institutions across the UK.
He said institutions applying for the new grants and loans through industry bodies would have to prove how they contribute to wider economic growth.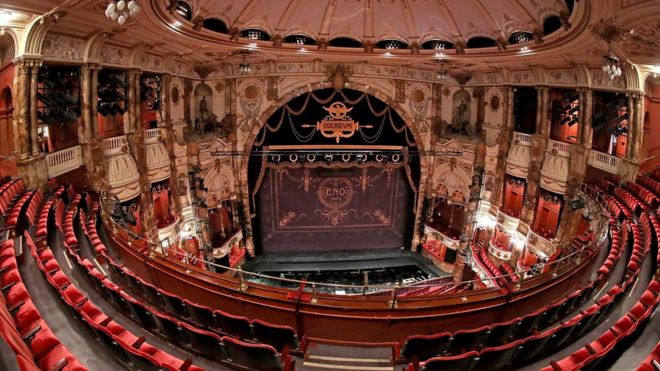 ---
Bekanntgabe der Preisträger der sechsten Mahler Competition
Am Samstag, 04. Juli 2020, hat die Jury der Mahler Competition 2020 direkt nach Abschluss des Finales die Preisträger des Wettbewerbs bekannt gegeben.
1. Preis (€ 30.000,-): Finnegan Downie Dear, Great Britain (geboren 01.04.1990)
2. Preis (€ 20.000,-): Thomas Jung, Deutschland (geboren 01.11.1984)
3. Preis (€ 10.000,-): Wilson Ng, Hong Kong (geboren 07.08.1989)
Harry Ogg, Great Britain (geboren 21.10.1990)
Katharina Wincor, Österreich (geboren 30.03.1995)
Der Gewinner der Mahler Competition 2020 Finnegan Downie Dear absolvierte seine Studien an der Universität Cambridge und der Royal Academy of Music mit Auszeichnung. Als Korrepetitor und Assistent war er am Royal Opera House Covent Garden, der Bayerischen Staatsoper München, der Wiener Staatsoper, der Staatsoper Berlin, am Opernhaus Zürich und bei den Salzburger Festspielen tätig. Künftige Engagements führen ihn an die Oper Frankfurt und die Königliche Oper Stockholm. Im Konzertsaal hat er bereits mit dem Swedish Radio Symphony Orchestra, dem Ensemble Resonanz, dem BBC Concert Orchestra, dem RTE Symphony Orchestra, dem RTE Concert Orchestra und der Slowakischen Philharmonie zusammen gearbeitet.
Announcement of the winners of the sixth Mahler Competition
On Saturday, 4 July 2020, the jury of the Mahler Competition 2020 announced the winners of the competition immediately after the finale.
1st prize (€ 30.000,-): Finnegan Downie Dear, Great Britain (born 01.04.1990)
2nd prize (€ 20.000,-): Thomas Jung, Germany (born 01.11.1984)
3rd prize (€ 10.000,-): Wilson Ng, Hong Kong (born 07.08.1989),
Harry Ogg, Great Britain (born 21.10.1990),
Katharina Wincor, Austria (born 30.03.1995)
The winner of the Mahler Competition 2020 Finnegan Downie Dear completed his studies at Cambridge University and the Royal Academy of Music with distinction. He has worked as a répétiteur and assistant at the Royal Opera House Covent Garden, the Bavarian State Opera Munich, the Vienna State Opera, the Berlin State Opera, the Zurich Opera House and the Salzburg Festival. Future engagements will take him to the Frankfurt Opera and the Royal Opera Stockholm. In the concert hall he has already worked with the Swedish Radio Symphony Orchestra, Ensemble Resonanz, BBC Concert Orchestra, RTE Symphony Orchestra, RTE Concert Orchestra and the Slovak Philharmonic.
---
Ennio Morricone est mort à l'âge de 91 ans
Le compositeur italien Ennio Morricone fut l'un des plus célèbres et prolifiques auteurs de musiques de films. Il est décédé la nuit dernière à l'âge de 91 ans dans une clinique de Rome où il était hospitalisé à la suite d'une chute ayant provoqué une fracture du fémur il y a quelques jours.
Ennio Morricone, lauréat d'un Oscar en 2016, pour l'une de ses dernières bandes originales (Les 8 salopards) a créé plus de 500 musiques pour le cinéma. Il « s'est éteint à l'aube du 6 juillet avec le réconfort de la foi », indique un communiqué de l'avocat et ami de la famille Giorgio Assuma, cité par les médias. « Il est resté pleinement lucide et d'une grande dignité jusqu'au dernier moment », affirme le communiqué. « Adieu maestro et merci pour les émotions que tu nous a offertes », a réagi sur Twitter Roberto Speranza, ministre italien de la Santé.
Ennio Morricone died at the age of 91
The Italian composer Ennio Morricone was one of the most famous and prolific authors of film music. He died last night at the age of 91 in a clinic in Rome where he was hospitalized following a fall that caused a fractured femur a few days ago.
Ennio Morricone, winner of an Oscar in 2016 for one of his last soundtracks (The Hateful Eight) has created more than 500 songs for the cinema. He "died at dawn on July 6 with the comfort of faith", says a statement by lawyer and family friend Giorgio Assuma, quoted by the media. "He remained fully lucid and of great dignity until the last moment," the statement said. "Farewell maestro and thank you for the emotions you have given us," said Roberto Speranza, Italian Minister of Health, on Twitter.