Last night, the 7th December 2014, the WildKat PR team had the pleasure of attending our client, mandolin player Avi Avital's concert with harpsichordist Mahan Esfahani. The Sam Wanamaker Playhouse with its wooden structure and beautiful gold patterned backdrop perfectly complimented the mainly baroque programme whilst the candlelight atmosphere added to the sound of the mandolin and harpsichord and transported us back to the world of stately court dances and Shakespeare. All that was missing was the fashion of the day.
The Sam Wanamaker Playhouse. Photocredit: Shakespeare's Globe Theatre
There was a clear camaraderie and friendship between Avi and Mahan with plenty of knowing looks during the pieces, hugs during applause and banter inbetween pieces. One exchange was particularly amusing with Mahan, whilst Avi was re-tuning, commenting: 'you only have six strings, you should try a hundred!' Indeed, both mandolin and harpsichord performed centre stage solos but were equal partners when playing together. It was clear why Avi has been described by The New York Times as having 'stunning agility;' I was sure he was going to break a string during the first Allegro of Scarlatti's Sonata for Mandolin and Basso Continuo in D minor (K90). Similarly, according to Mahan's twitter page (@MahanEsfahani)  he has been described by the BBC as a 'harpsichord ninja.' I'm sure the whole audience can affirm that; he made the instrument sound elegant and sophisticated whilst driving the tempo.
A particular highlight for me was Beethoven's Andante Con Variazioni, D-Dur WoO 44/2 for mandolin and harpsichord. When I first saw this on the programme I was intrigued as I was unaware that Beethoven wrote for such instruments. Avi and Mahan told us that Beethoven had indeed composed four Sonatinas for mandolin and harpsichord and a recently discovered letter, penned by the composer himself, had revealed that they were intended as a love poem to his nineteen-year-old crush. Beethoven and the lucky lady would have played the music together as an act of intimacy in a society with rigid restrictions on the interactions between men and women. Knowing the story behind the work, we were able to hear the 'flirtations' between the instruments as both showed off in an attempt to impress the other.
Another noteworthy moment was Avi's own and (he admits) only composition Kedma. Meaning, 'Eastwards' or 'towards the orient' in Hebrew, Kedma certainly conjured up exotic scenes through the sound of the mandolin itself, pentatonic influences and dissonant chords. This was all to the thrill of the audience, one of whom shouted: 'when is the premier of opus 2?'
All in all, we had a very musical and informative afternoon with two of the best musicians in the world. WildKat PR looks forward to more.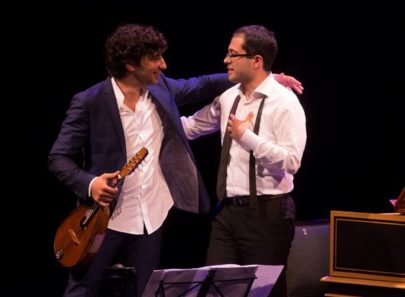 Avi Avital and Mahan Esfahani at the Bristol Proms 2014. Photo: SWNS found at Universal.de