Barbican Guildhall Creative Learning wins Creative Learning Awards SEND Achievement
Barbican Guildhall Creative Learning has won the SEND Achievement (Special Educational Needs and Disabilities) at the National Creative Learning Awards for its work with The Garden School in Hackney, a school for learners with autism aged 4 – 16.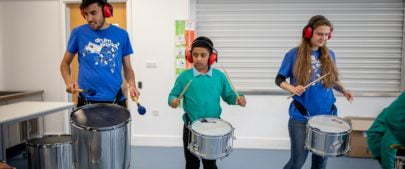 The Garden School is one of three schools participating in Barbican Guildhall Creative Learning's Associate Schools programme this year.
Jenny Mollica, director of creative learning (interim) at the Barbican and Guildhall School of Music & Drama said: 'We're absolutely delighted that our work with The Garden School has been recognised at a national level. Our work with The Garden School is a hugely successful example of the impact of this model and approach – one which we're proud is being recognised through this award.'
---
Edinburgh International Festival launches 2019 programme
Das Leipziger Gewandhaus setzt in der Saison 2019/2020 einen ungewohnt weiblichen Schwerpunkt. Der 200. Geburtstag von Clara Schumann sei der Anlass gewesen zu schauen, welche Musik von anderen Komponistinnen noch in die Spielplan genommen werden könnten, sagte der künstlerische Planer und Leiter des Konzertbüros, Tobias Niederschlag, am Dienstag in Leipzig.
Insgesamt acht Frauen – von Schumann über Lili Boulanger bis hin zu Fanny Hensel – finden sich nun im Programm der 239. Spielzeit. Der Schwerpunkt mit den Komponistinnen sei überfällig gewesen, sagte Niederschlag.