'Not as we know them, but as we need them': BBC Proms 2020 season announced
The 125th Proms season has been reconceived to account for challenges posed by the coronavirus pandemic. Its organisers hope it will 'take on a unique format to reflect the times, with a compelling multi-platform offer'.
From Friday 17 July BBC Radio 3 will present concerts from the Proms archive every evening, as well as a weekly late-night prom, and a Monday lunchtime offering. BBC Four will then broadcast stand-out Proms each Sunday throughout the festival. Further highlights from seasons past will be available on BBC iPlayer.
From 28 August, the organisers hope that musicians will be able to perform live at the Royal Albert Hall, culminating in a Last Night of the Proms held on 12 September. Social distancing advice permitting, it is hoped that live performances will include solo and ensemble work, which will be broadcast across BBC Radio 3, BBC Four and iPlayer. The full schedule of events will be revealed nearer the time. Digital offerings will include a unique First Night commission, performed by all the BBC Orchestra and BBC Singers through a new Grand Virtual Orchestra. To mark the 250th anniversary year of Beethoven's birthday, a new mash-up of Beethoven's Ninth has been created by Iain Farrington.
---
Tête à Tête launches new Manifesto for a Real Opera Festival in An Imaginary World – Tête à Tête: The Opera Festival 2020 goes ahead
Tête à Tête has launched a Manifesto for a Real Opera Festival in An Imaginary World amid the news that Tête à Tête: The Opera Festival 2020 will indeed be going ahead – whether by the act of imagination or in an eventual real physical space.
The Manifesto asserts that the festival will not make art in isolation, for the fundamental reason that the festival has always been a powerful collaboration between the artists and audience, and a space where connection is forged. Until the festival can present work in a living, breathing space, Tête à Tête has conjured up an imaginary world in which a real festival of real opera performances can take place. Both online and offline, artists and companies involved in the festival will share the creative work behind their imaginary operas, from the draft libretti to the visual references that inspire them.
The manifesto can be read here…
---
GEMA sei Dank: Künstler erhalten 906 Millionen Euro
Für viele Musikschaffende sind die Zahlungen der Verwertungsgesellschaft existenzsichernd. Dank reger Konzerttätigkeit 2019 gab es viele Einnahmen für die GEMA – und Ausschüttungen.
Die Musikrechtegesellschaft GEMA hat im vergangenen Jahr von Konzertveranstaltern, Diskotheken, Radiosendern und Internetdiensten 1,07 Milliarden Euro eingenommen – jetzt schüttet sie 906 Millionen Euro an weltweit zwei Millionen Komponistinnen, Textautorinnen und Musikverlage aus. "Vor dem Hintergrund der aktuellen Entwicklungen wird das sehr gute Geschäftsjahr 2019 der GEMA zum Krisen-Airbag für unsere Mitglieder", sagte Vorstandschef Harald Heker am Mittwoch, 27. Mai, in München. Für viele seien die Ausschüttungen existenzsichernd.
Thanks to GEMA: artists receive 906 million euros
For many music creators, the payments of the collecting society secure their existence. Thanks to lively concert activity in 2019, there was a lot of income for GEMA – and distributions.
Last year, the music rights society GEMA collected 1.07 billion Euros from concert organisers, discotheques, radio stations and Internet services – now it distributes 906 million Euros to two million composers, lyricists and music publishers worldwide. "Against the background of current developments, GEMA's very good financial year 2019 will become a crisis airbag for our members," said CEO Harald Heker on Wednesday, 27th May, in Munich. For many, he said, the distributions would secure their existence.
---
Festivals ou concerts de musique… le seul secteur du spectacle vivant musical accuse 2 milliards de pertes
Les pertes pour le spectacle vivant musical en France, impacté par la crise sanitaire, sont estimées entre "1,7 et 2 milliards d'euros", a indiqué mercredi Jean-Philippe Thiellay, président du Centre national de la musique (CNM). Ces dommages, conséquence d'une "crise inouïe", mesurés en terme de "chiffre d'affaires et revenus" concernent "uniquement le spectacle vivant (musical), toutes esthétiques confondues, c'est-à-dire musique classique, lyrique, contemporaine, symphonique, musiques actuelles et variété", a précisé le responsable, auditionné par la Commission des Affaires culturelles de l'Assemblée Nationale. Ces pertes s'établissent "à moins de 1 milliard pour la billetterie", somme à laquelle viennent s'ajouter les "pertes de recettes annexes, buvettes, bars, ventes de produits dérivés, etc.", a-t-il développé.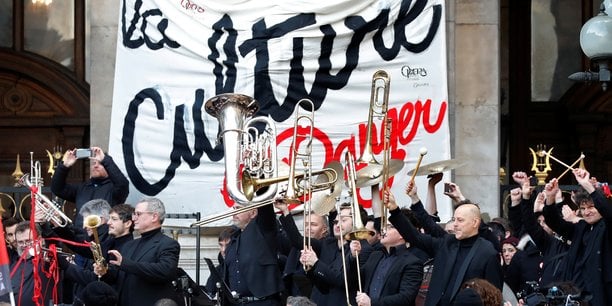 Festivals or music concerts… the musical performing arts sector alone has a loss of 2 billion euros
The losses for the musical performing arts in France, impacted by the health crisis, are estimated at between "1.7 and 2 billion euros," Jean-Philippe Thiellay, president of the National Music Centre (CNM), said on Wednesday. These damages, the consequence of an "unprecedented crisis", measured in terms of "turnover and income" concern "only the performing arts (musical), all aesthetic combined, that is to say classical, lyrical, contemporary, symphonic, contemporary music and variety", the official said, after being heard by the Cultural Affairs Committee of the National Assembly. These losses amount to "less than 1 billion for ticket sales", to which must be added the "loss of ancillary revenues, refreshment stands, bars, sales of merchandising etc.", he said.
---
Oklahoma City Philharmonic associate concertmaster's "Covid Romance," performed remotely with music colleagues
"When the coronavirus pandemic temporarily shuttered the Civic Center and put the Oklahoma City Philharmonic on hiatus, Associate Concertmaster Marat Gabdullin had a message he wanted to share. 'Music is not canceled,' " writes Brandy McDonnell in Sunday's (5/24) Daily Oklahoman (Oklahoma City). "Naturally, the award-winning violinist decided to spread that message musically. Gabdullin took a short orchestral work he had composed, recruited nearly 30 musical colleagues from across the globe and led them in recording remotely the wistful piece 'Covid Romance.'
Since the Oklahoma City Philharmonic posted the collaborative video to Facebook almost a month ago, it has received more than 5,200 views…. The 4 1/2-minute video features players from the U.S. Russia, Germany, Switzerland, Austria, Qatar and Japan. It includes a guest appearance from David Kim, concertmaster for the Philadelphia Orchestra…. The OKC Philharmonic's remote collaborative performance of Edvard Grieg's 'Hall of the Mountain King,' conducted by Oklahoma City Philharmonic Music Director Alexander Mickelthwate … has earned more than 13,000 views on Facebook." OKC Philharmonic Executive Director Agnieszka Rakhmatullaev said the orchestra "received many heartwarming messages affirming the strong need and desire for music … in this time of social distancing."