Classical news
In today's news, tenor Nico Castel dies at the age of 83, Simon Halsey is named conductor laureate of the Berlin Radio Choir and British pop music sales soar.
The Telegraph
The box office cannot be the measure of good art
Public subsidy is vital if a wide range of arts are to flourish, says Ivan Hewett
Daniel Barenboim: piano, Royal Festival Hall, review: 'ecstatic revelation and emotional violence'
Other musicians look up to the music, but swaggering Argentine pianist Barenboim looks it in the eye, says Ivan Hewett
Classical Music Magazine
Simon Halsey named conductor laureate of Berlin Radio Choir
Simon Halsey has been named conductor laureate of the Berlin Radio Choir. He was awarded the honorary title as part of his official farewell as part of the chorus's sing-along performance of Verdi's Requiem at the Berlin Philharmonie on 31 May.
New York Times
Nico Castel, Tenor and Diction Coach at the Met, Dies at 83
Nico Castel died on Sunday at his home in Manhattan. He was 83.
Günther Schneider-­Siemssen, Opera Stage Designer, Dies at 88
Günther Schneider­-Siemssen, the opera stage designer, died on Tuesday in Vienna. He was 88.
Der Tagesspiegel

Die Sache mit dem Maestro-Kult

Nicht nur die Philharmoniker, auch das Deutsche Symphonie-Orchester und das Rundfunk-Sinfonieorchester Berlin suchen derzeit neue Chefdirigenten. Warum die Position des künstlerischen Leiters in der Klassik unverzichtbar ist.
concerti
"Eine bessere Ausbildung gibt es nicht!"

Das Leipziger Gewandhausorchester verknüpft seit vielen Jahren in seiner Mendelssohn-Orchesterakademie Studium und Praxis
Le Figaro

Ennio Morricone déplore la médiocrité des musiques de films

Le plus célèbre des compositeurs s'est exprimé dans The Guardian. Il a dénoncé l'utilisation par les réalisateurs de sons de synthèse pour réaliser la bande originale des longs métrages.
qconline.com

Volunteers for Symphony raises $103K from cellos

The Quad City Symphony Orchestra's Volunteers for Symphony exceeded the fundraising goal in the "100 Years, 100 Cellos" project and are gearing up for the 32nd annual Second Fiddle Sale.
Tweets
sevenoaksymphonyorch: ‏@sevenoaksorches Celebrating 50 years of having Isabel in SSO – congratulations!! #oboe
Ed Vaizey: ‏@edvaizey British music is going in One Direction as our artists score highest recorded share of global music sales https://www.bpi.co.uk/media-centre/british-artists-score-highest-recorded-share-of-global-music-sales.aspx … @bpi_music
The Guardian: ‏@guardian Man plays guitar to remain conscious during brain surgery – video http://trib.al/H5PgCM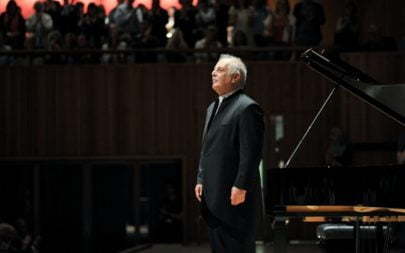 Other musicians look up to the music, but swaggering Argentine pianist Barenboim looks it in the eye. Photo: The Guardian