Guardian
Thomas Quasthoff: 'Schubert's songs fly through the sky like angels'
The celebrated bass-baritone on why he retired at 52, life after thalidomide, and his new career in Shakespeare and cabaret
Telegraph
Can Brian Cox save classical music?
A British conductor has recruited the TV physicist and other famous thinkers to remind us why music matters
Independent
The Schubert Project: Classical music festival in Oxford to play all 600-plus songs by Austrian composer Franz Schubert
There is no doubt that this year's all-Schubert Festival will be a potent affair
Times
Proms conductor Marin Alsop attacks 'snobbish' classical music world
The leading conductor Marin Alsop has said that classical music is "inaccessible" and "elitist" and that audiences should be able to clap during movements if they choose to.
Classic FM
Marin Alsop: 'clapping doesn't bother me in the least'
Conductor Marin Alsop has hit out at classical purists who don't clap between movements during classic concerts.
Pizzicato
Atlanta Symphony: Federal Mediation Shows Start-Up Difficulties
The proposed federal mediation in the Atlanta Symphony Orchestra labor dispute has teething troubles: while the administration is ready to resume collective bargaining agreement discussions using federal mediator Allison Beck, the ASO Players' Association is waiting for a first individual meeting with the mediator.
Musik-heute
Sopranistin Adriana Ferfecka gewinnt Gesangswettbewerb DEBUT
Die polnische Sopranistin Adriana Ferfecka hat den 7. Europäischen Gesangswettbewerb DEBUT gewonnen.
Süd West Presse
Andrew Manze über "Musik für das heutige Publikum"
Der britische Geiger und Dirigent Andrew Manze, Experte für historische Aufführungspraxis, will die Musik zu den Menschen von heute sprechen lassen. "Die Idee authentischer Aufführungen ist nicht sehr relevant für die heutige Zeit", sagte der neue Chefdirigent der NDR-Radiophilharmonie in Hannover.
Concerti
Spielstätten-Porträt Bürgerhaus Pullach
Le Monde
Festival Musica : Joëlle Léandre, on n'entend qu'elle
La contrebassiste la plus hardie des terres inconnues présente « Can You hear Me ? » au festival strasbourgeois.
AFP
A rediscovered sonata, as Mozart intended
Balazs Mikusi's heart started racing when he realised what the papers he held in his hand were: the long-lost original score of a famous Mozart sonata scribbled by the composer himself.
The Epoch Times
NTDTV Competitions: Season of Cultural Revival Begins
Music and art lovers can join in the events
Twitter
Marin Alsop @marinalsop: "The experience was far more personal and intimate." Read an exclusive interview with Marin about #desertislanddiscs http://bit.ly/107RaES 
Manchester Camerata ‏@MancCamerata: Last week saw the start of our amazing #creative cross-curricular workshops! Get in on the action http://bitly.com/Z4y3uL  #musiceducation
Intermusica ‏@IntermusicaLtd: Denis Kozhukhin's album of Haydn Sonatas is out today – listen to excerpts & read more http://ow.ly/C3Ac6 http://bit.ly/1vqtExn
YCAT ‏@YCATrust: We are gearing up for our Presentation Concert tonight at @southbankcentre! Will you be joining us? http://bit.ly/1tzlkLO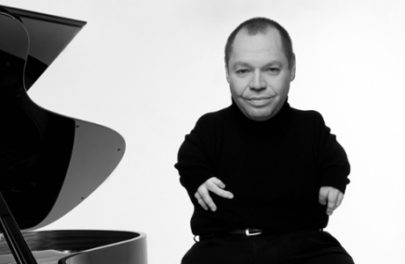 Thomas Quasthoff: 'I've always said my disability is a fact, not a problem.'Photograph: Andre Rival/Focus / eyevine