In today's news: traveling musicians and British Airways, Sing for Pleasure announces young conducting scholars, Garsington Opera and the 360-degree simulated experience. VocalEssence launches a youth programme, fair pay for Australian artists is still out of reach and the Perth Festival reveals its 2018 line-up.
The Times
BA tells musicians to buy another seat for their cello
British Airways has caused consternation among some leading performers by making it easier to carry violins and violas but effectively banning most other instruments from the cabin, including guitars, unless passengers buy a second seat.
Classical Music
Sing for Pleasure announces young conducting scholars 2017/18
Sing for Pleasure has announced the recipients of scholarship places on its Young Conductors' Programme for the coming academic year.Garsington Opera
Opera Now
Garsington Opera unveils 360-degree audience experience
Audiences can immerse themselves in Garsington Opera's Silver Birch, thanks to a 360-degree simulated experience available on BBC Arts Digital.
Choir and Organ
VocalEssence launches youth programme
VocalEssence, a choral arts nonprofit based in Minnesota, has launched a youth programme.
Music Business Worldwide
Spotify, Soundcloud and Deezer join forces as part of new EU lobbying group
Spotify, SoundCloud and Deezer are amongst new members of a European lobbying organization which aims to "advocate for policies that shape a favourable business environment for digital music".
NYTIMES
Lyric Opera of Chicago Offers Very Theatrical 'Die Walküre'
CHICAGO — Many productions of Wagner's "Die Walküre" stage the "Ride of the Valkyries" scene as a rowdy reunion. We see eight Valkyrie sisters, who arrive on their flying steeds, assemble at a mountaintop to greet one another giddily.
Limelight 
Fair pay for Australian artists still out of reach, study shows
Artists earn less than most professionals, with disparities even more pronounced for women and differently abled artists.
Perth Festival reveals its 2018 line-up
The programme includes Jordi Savall, Jean-Efflam Bavouzet, Taipei's U-Theatre and the Michael Clark Company.
France Musique
Décès de l'organiste Michel Chapuis
L'organiste Michel Chapuis est décédé à l'âge de 87 ans. Musicien internationalement reconnu, il a notamment été titulaire de l'orgue du chœur de la cathédrale de Notre-Dame de Paris et de l'orgue de la chapelle du château de Versailles.
Tagesspiegel
Landesjugendorchester Berlin Tänzerische Leichtigkeit
30 Jahre Landesjugendorchester Berlin: Zum Jubiläum spielt das junge Ensemble Mozart und Vasks im Konzerthaus.
Nachfolger von Ivan Fischer Christoph Eschenbach wird neuer Chefdirigent des Konzerthauses
Seit 55 Jahren steht er auf den Bühnen dieser Welt. Mit Christoph Eschenbach übernimmt ab 2019 ein erfahrener Maestro den Taktstock am Konzerthaus. Er wird den Orchesterwettbewerb auffrischen.
Portraits.klassik
Programme abseits der Konventionen beim Festival Printemps des Arts de Monte-Carlo
Das Festival Printemps des Arts de Monte-Carlo findet in diesem Jahr zum 37. Mal statt. Auch in diesem Jahr hat der Festivalleiter Marc Monnet mehrere Schwerpunkte gesetzt, die das umfangreiche Programm mit thematischen Strängen durchziehen. 
Berlin.de
Bachs h-Moll-Messe ist Unesco-Welterbe
Jetzt hat es die Berliner Staatsbibliothek schwarz auf weiß: Das Manuskript von Johann Sebastian Bachs (1685-1750) h-Moll-Messe gehört nun offiziell zum Unesco-Weltkulturerbe.
Twitter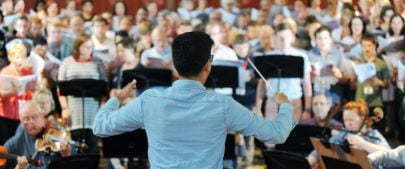 Image: Choir and Organ