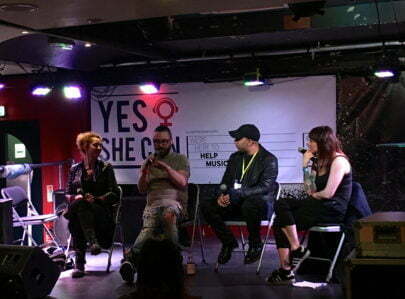 In partnership with Help Musicians UK,  Thursday 9th March marked the inaugural 'Yes She Can' panel event in aid of the UN 'He For She' campaign. The aim of the event, organised by 'Can You CIC It?,' was to give young women aged 18-25 a chance to find out more about the routes into some of the more under-represented roles within the music industry. CYCI? was founded by Sybil Bell – founder of Independent Venue Week –  and Chloe Ward to provide opportunities for anyone who wants to work and/or perform in the music industry, but who may not be able to access these by formal means such as university or through pre-existing connections.
Panel experts ranged from recording engineers, venue managers, BBC journalists to studio technicians, with practical advice as to how to break into the industry as a young woman. Guest speakers included Assistant Producer at BBC Radio 6 Music Helen Hobday, who humorously suggested that she achieved success through "just turning up every day", and Guildford Boileroom's Dominique Frazer, who urges young women to "dig in" and be prepared to work hard. The audience, comprising mainly young women starting out in their careers, were asking all the right questions and seemed engaged throughout the day's events.
Diversity and representation in the music industry was the main issue tackled throughout the day's events, and men were not excluded from the dialogue. Wizdom Layne spoke about how to identify a 'good, bad or god' opportunity and make effective choices to enable success in your life and career. Musician Kris Halpin demonstrated his mi.mu gloves, wearable music technology created in collaboration with singer Imogen Heap and disability charity Drake Music.
Later, guests were treated to a talk from London's Night Czar, performer Amy Lamé, who spoke about the effects of having a 24-hour London and what that would mean for employment opportunities, before there was a chance for attendees to network over pizza, and discuss the afternoon with industry professionals.
It is hoped that events like this one can be repeated in the future, and it will be exciting to see what CYCI? work on next to provide young people with advice and a chance to network with people keen to help out the next generation.