WildKat PR is delighted to welcome Cantate to its roster. Cantate is a mixed-voiced youth choir that have recently returned from the World Choir Games in Latvia as double gold medal winners. The choir, based in Bishop's Stortford, Hertfordshire, have achieved international acclaim since being founded by Michael Kibblewhite in 1994, and are currently celebrating their twenty-year anniversary. Cantate now stretches across three choirs and has a reputation for innovative and dynamic musical performances of the highest quality. It remains open for anyone to join without audition at a level that suits them, and embraces Classical, Show and Pop repertoire as well as music from all around the world.
In addition to regular tours to Europe including Bordeaux, Paris, Assisi and Venice, the choirs also perform in their home areas of Essex, Hertfordshire and Cambridgeshire throughout the season. They have also performed at various prestigious venues in the south of England, including the Royal Albert Hall, the Royal Festival Hall, 10 Downing Street and annually at the family carol service at St. Paul's Cathedral. Other accolades including winning gold in the 2008 World Choir games in Austria, winning highest placed English Children's Choir at the Llangollen International Eisteddfod, winning top awards at the National Music Festival for Youth and winning the Mid-Somerset Music Festival. The choir has also featured on BBC Radio 2 and BBC Songs of Praise, and have worked and recorded under conductors such as Sir Andrew Davis and John Rutter.
Cantate offers young people unique musical training. All members are given percussion and rhythm workshops as a crucial part of their education in the choir, starting with simple Samba rhythms and moving to complex presentations of rhythm and movement that are a feature of many of the concerts. Although the main intake for Cantate is for the training choir, which accepts children from aged eight, older students are always welcome to join at a level that reflects their previous experience.
Since 2010 Cantate has been led by Nicholas Shaw and Graham Instrall, who head an inspirational team of pianists, directors and singing teachers. They are proud to have the active support of three honorary patrons: Baroness Genista McIntosh, Lord Walker of Gestingthorpe and composer Mark-Anthony Turnage.
For more information, please visit Cantate's website and check Cantate's Twitter and Facebook pages.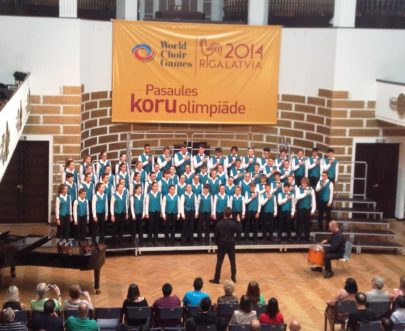 Cantate performing at the 2014 World Choir Games