Telegraph
Parents think classical music is 'elitist' and only listen to pop
These days it is children who introduce classical music to their parents, says former Royal Harpist Catrin Finch
Daniel Harding: conductor on a mission to revive the classical concert
British conductor Daniel Harding has recruited the TV physicist Brian Cox and other famous thinkers to revolutionise the concert-going experience
Classic FM
Lindsey Stirling to join Andrea Bocelli on UK tour
Violinist and internet sensation Lindsey Stirling has been announced as special guest for Andrea Bocelli's November UK & Ireland arena tour.
The Strad
Former Chetham's School of Music violin teacher charged with rape and indecent assault
The charges against Wen Zhou Li, who also taught at the Royal Northern College of Music, date back to the 1990s
Classical Source
London Philharmonic Orchestra and Vladimir Jurowski extend partnership
The London Philharmonic Orchestra is delighted to announce that its long-standing and celebrated partnership with Vladimir Jurowski, Principal Conductor and Artistic Advisor, will continue until at least 2018.
The Stage
Online arts channel to be launched with arts council backing
A new on-demand channel for the arts is to be launched with £1.8 million of funding from Arts Council England.
Pizzicato
Atlanta Symphony President Resigns During Lockout
The President of the Atlanta Symphony Orchestra, Stanley Romanstein, has resigned, mentioning that his leadership would be an "impediment" to reaching a new labor agreement with the symphony's locked out musicians.
Die Zeit
Bayerische Staatsoper zur Oper des Jahres gewählt
Musikkritiker aus Europa und den USA haben das Musikhaus erstmals auf Platz eins ihrer Bestenliste gehoben. Ausschlaggebend war die Arbeit des Generalmusikdirektors
Musik-heute
Komponistin Milica Djordjević erhält Belmont-Preis für zeitgenössische Musik
Mit ihr werde eine der interessantesten Komponistinnen der jüngeren Generation ausgezeichnet, teilte die Forberg-Schneider-Stiftung am Montag mit.
Codexflores
Beim Orchestre philarmonique de Radio France wird nach einer Ankündigung der Gewerkschaften Sud und CGT am 3. Oktober gestreikt. Zum Opfer fällt der Massnahme ein Konzert im Salle Pleyel. Protestiert wird gegen die Umstände beim Abgang des künstlerischen Leiters des Kultursenders.
ORF.AT
Dirigenten-Eklat: Meyer sieht Mitschuld
In der Staatsoper gibt man sich nach den jüngsten Turbulenzen um Dirigenten-Absagen und Sänger-Probleme vor der "Idomeneo"-Premiere am kommenden Sonntag entspannt. Gleichzeitig gestand Direktor Dominique Meyer eine Mitschuld ein.

ArtsATL
Breaking News: ASO's Stanley Romanstein resigns; former Coke executive appointed interim CEO
Stanley Romanstein has resigned as president and CEO of the Atlanta Symphony Orchestra, effective immediately, the latest casualty of the acrimonious relationship between the orchestra musicians and its management, which led to a lockout four weeks long.
The New York Times
Austerity Leads Ensemble to Adapt
William Christie and Les Arts Florissants in Season of Change
Classicalite
Classical Musicians Said To Create "Peaceful Atmosphere" For Occupy Central Demonstrators
Occupy Central is underway in China and amid threats from the government to lay siege, protestors and organizers have tried to remain optimistic and calm.
Twitter
Royal Albert Hall @RoyalAlbertHall: See photos, setlist and more from Friday night's acoustic @jason_mraz show at the Hall: bit.ly/1sLAP5n
Wigmore Hall @wigmore_hall: "The key is to figure out what you're contributing," @JoshuaBellMusic on playing chamber music http://n.pr/1DSR6Z9 
Benjamin Britten @BrittenOfficial: On @BBCInTune today @suzyklein has 10 quirky facts about 'Storm' from Britten's 4 Sea Interludes, part of 10 Pieces: bbc.in/1lrlo8j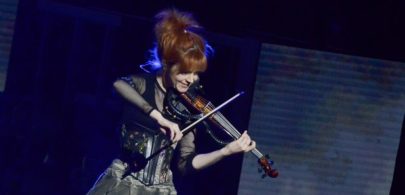 Lindsey Stirling. Photo: Classic FM