Ms. Davidson, who will begin her tenure on July 1, 2013, succeeds Norma Hurlburt, who is stepping down after serving in the position since 2000.  Having worked for the last forty-five years in the field of chamber music, Ms. Hurlburt is forming her own business for executive and personal consulting for non-profit organizations.
Suzanne Davidson has enjoyed a long career as a leader of important arts, education, and entertainment institutions.  She is the former President of the School of American Ballet at Lincoln Center, and before that was Producing Director of Second Stage Theatre.  She came to Second Stage Theatre after producing on- and off- Broadway for her own production company for a number of years.  Her producing career began with the original production of "Evita", which she oversaw for Robert Stigwood on Broadway and throughout the US and Canada, as Co-Chief Operating Officer for Stigwood Group, Ltd., producer of such classic movies and soundtrack recordings as Saturday Night Fever and Grease.  Ms. Davidson began her career as an associate in the Entertainment department of Paul Weiss, and most recently has been Associate Dean and Vice President of New York Law School.
On behalf of the Chamber Music Society, Peter Frelinghuysen, Chairman of the Board, commented on the appointment of Ms. Davidson:
As the Chamber Music Society enters an ambitious new phase of growth and innovation, Suzanne Davidson is the ideal person to lead the organization. Her prior experience of leadership at Lincoln Center, and her impressive career-long record of institution building, marketing, and fundraising will be tremendous assets as CMS develops exciting new ways to make chamber music an important part of our everyday culture; grows to meet escalating demand from consistently sold-out concerts; builds a diverse audience of all ages and nationalities; increases its performance schedule at our Lincoln Center home; and expands its presence around the country and abroad.
CMS Artistic Directors David Finckel and Wu Han responded:
The Chamber Music Society could not be more fortunate to welcome Suzanne Davidson as its new Executive Director. Her broad expertise in the performing arts and entertainment, and her passion for chamber music, bring a wealth of exciting new ideas to our partnership.  We are deeply respectful of the leadership position that CMS holds as the Lincoln Center constituent committed to producing and presenting the highest quality chamber music, from classical to new music, with the finest musicians, and together we already have lots of plans to expand the horizons of the art form, artists and audiences.
On accepting the position, Ms. Davidson remarked:
There is nothing more exhilarating than hearing great musicians create uniquely intimate, thrilling musical experiences in the most beautiful living room in the world – Alice Tully Hall, the Chamber Music Society of Lincoln Center's home – and in warm and wonderful spaces around the world.  It is a great honor to have this opportunity to join with world-renowned Artistic Directors David Finckel and Wu Han, a powerful, dedicated board and growing Global Council, and a wonderful staff, to lead CMS as it heads towards its 50th Anniversary.  I can't wait to begin.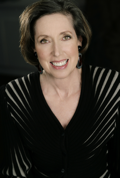 The Chamber Music Society is also pleased to announce the signing of a third-term contract for Artistic Directors David Finckel and Wu Han through the 2018-19 season. The extension of their contract affords them the longest tenure since that of founding Artistic Director Charles Wadsworth.
Mr. Finckel and Wu Han renew their contract with CMS at a time characterized by acclaimed levels of artistic excellence, innovation, and box office success.
On signing their new contract, they commented:
As we put pen to paper again, at the gracious invitation of our Board of Directors, we are both thrilled by their faith in our vision, and at the same time humbled by the responsibility of guiding this rapidly evolving organization.  Over the past seven years, CMS has become our artistic home.  Our hard-working, inspired staff, our generous and visionary Board, and the incredible artists coming from all over the world to perform, truly make CMS 'such stuff as dreams are made on.' We are deeply grateful for the opportunity to continue our work for CMS, and we pledge to the task our lasting commitment and deepest dedication.