In today's news: Conductor Charles Dutoit accused of sexual misconduct and the reaction of the Sydney Symphony Orchestra. Also, famous German christmas carol to be considered as intangible cultural heritage by the UNESCO.
The Telegraph
Royal Philharmonic Orchestra's Charles Dutoit accused of sexually assaulting four musicians
The artistic director and principal conductor is alleged to have physically restrained three opera singers and a classical musician in separate incidents between 1985 and 2010.
Classical Music
Universal and Facebook announce multi-year agreement
Universal Music Group will become the first major music company to license its recorded music and publish catalogues for video and other social experiences across Facebook
Composers invited to apply for Oxford visiting fellowship
Applications are open for the 2018/19 Albi Rosenthal Visiting Fellowship at the Bodleian Libraries
Music Teacher
Radio 3 to broadcast Royal Birmingham Conservatoire concerts
The first concert broadcast will take place on 9 January.
Limelight
Sydney Symphony Orchestra responds to Dutoit allegations
The Orchestra has released a strongly worded statement following allegations the conductor sexually assaulted four women in the USA between 1985 and 2010.
nmz
Götterdämmerung: Zeitalter der Despoten am Dirigentenpult ist vorbei
Die #MeToo-Kampagne hat den Blick für verhängnisvolle Abhängigkeiten im beruflichen Leben geschärft. Auch der Kunstbetrieb ist ins Gerede gekommen. Dabei gibt es dort selbst an exponierten Stellen schon seit längerem einen Sinneswandel.
Klassik.Com
Dirigent Charles Dutoit mehrfach der sexuellen Belästigung bezichtigt
Der Schweizer Dirigent Charles Dutoit (81) sieht sich mit Vorwürfen sexueller Belästigung konfrontiert. Die Vorwürfe wurden von drei Sängerinnen und einer Orchestermusikerin erhoben.
BR Klassik
Deutsches Weihnachtslied vorgeschlagen
Der nach dem Autor des berühmten Weihnachtsliedes Johann Daniel Falk benannte Falk-Verein hat "O du fröhliche" für die Liste des immateriellen UNESCO-Weltkulturerbes vorgeschlagen. Die Thüringer Staatskanzlei soll im Januar 2018 über diesen Vorschlag entscheiden.
Platea Magazine
Reputadas cantantes acusan al director de orquesta Charles Dutoit de abusos sexuales
Tal y como publica la revista Time, cuatro mujeres, profesionales de la música clásica, concretamente tres cantantes y una instrumentista, han acusado al director de orquesta Charles Dutoit de supuestas agresiones sexuales.
Twitter
Theater an der Wien @TheaterWien: Wir freuen uns sehr bekannt zu geben, dass #StefanHerheim ab der Saison 2022/23 die Intendanz des Theater an der Wien übernehmen wird. Bis zu diesem Zeitpunkt wird der amtierende Intendant #RolandGeyer die Geschicke unseres Hauses weiterführen. via @APAOTS
Music History @today_classical: #Today in 1858 Birth of Italian opera #composer Giacomo #Puccini in Lucca. #MusicHistory #classicalmusic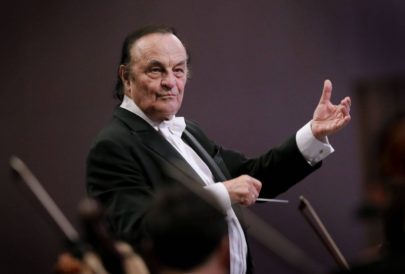 Image: Charles Dutoit © Platea Magazine/EPA-EFE