Classical news
In today's news, Chi-chi Nwanoku explains her plans to form Europe's first professional black orchestra, Stephen Hough tells of his love of greying classical audiences and Edward Gardner says goodbye to the English National Opera as he conducts his last production with the company this weekend.
The Guardian
Chi-chi Nwanoku: 'I want black musicians to walk on to the stage and know they belong'
For 30 years, double bassist Chi-chi Nwanoku has enjoyed a successful career and as a classical musician and never felt the colour of her skin has held her back. So why is she now embarking on an ambitious plan to form Europe's first professional black orchestra? She explains all
Classic FM
'I love ageing classical audiences', says Stephen Hough
The great British pianist Stephen Hough has entered the debate over greying audiences at classical concerts by writing of his delight at playing to a bus load of old people.
Sinfini Music
Edward Gardner, the outgoing music director of English National Opera, is to conduct his last production with the company this weekend.
The Strad
Rape trial of former head of strings Malcolm Layfield begins in Manchester
The violinist, who denies the charge, was formerly head of strings at the Royal Northern College of Music and taught at Chetham's
Radio Times
Radio 3 controller Alan Davey answers your questions
Too much news? More Private Passions? The future of the BBC orchestras?
The Washington Post
Jean Ritchie, singer who helped lead folk revival of '50s and '60s, dies at 92
Jean Ritchie, a singer, musician and writer who helped spearhead a revival of folk music in the 1950s and 1960s with her heartfelt performances of the traditional songs of her native Appalachia, died June 1 at her home in Berea, Ky. She was 92.
Apple möchte sich als erfolgreicher Streaming-Dienst etablieren. Doch der Weg dorthin ist beschwerlich.
musik heute
filmtonart ruft Kompositionswettbewerb aus
Der Tag der Filmmusik "filmtonart" hat seinen diesjährigen Kompositionswettbewerb gestartet. Bewerber sind aufgerufen, eine Sequenz aus dem Dokumentarfilm "Above and Below" von Nicolas Steiner zu vertonen, teilte der Bayerische Rundfunk am Dienstag mit.
codex flores
Die belgische Plattenfirma Pias (Play it again Sam) übernimmt die Labels von harmonia mundi. Eva Coutaz, die Witwe des Labelgründers Bernard Coutaz, bleibt Artistic Advicer der Gruppe.
El Informador
Cultura UDG celebra 10 años de fomento
Cultura UDG, el programa de fomento, producción y difusión cultural de la Universidad de Guadalajara (México), celebra 10 años de servir como "puente" entre las comunidades artística, universitaria y la población en general.
Twitter
Indy Music ‏@IndyMusic: The future of songwriting: How streaming is changing everything we know about making music http://ind.pn/1Gk1jBG 
Guardian Classical ‏@GdnClassical: Ten black composers whose works deserve to be heard more often http://gu.com/p/49exa 
Spitalfields Music ‏@SpitsMusic: Today's @TheSixteen & @EXAUDIensemble bring a choral feast to East London. See you there! @ccspits #SMSF15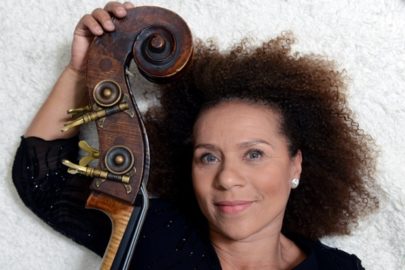 For 30 years, double bassist Chi-chi Nwanoku has enjoyed a successful career and as a classical musician and never felt the colour of her skin has held her back. Photo: Guardian