Guardian
Frédéric Chopin's heart shows signs of TB, say Polish experts
Findings appear in line with composer's 1849 death certificate which says he died from tuberculosis in Paris
Telegraph
Daniel Barenboim interview: Why I'm proud of my orchestra
Conductor Daniel Barenboim talks to Ivan Hewett about his Israeli-Arab orchestra the West-Eastern Divan
Classical Music Magazine
Sir James Galway, Sir Neville Marriner and Chailly & Gewandhaus win atGramophone awards
The 2014 Gramophone magazine awards were held on 17 September at a ceremony at St John's, Smith Square in London.
BBC Music Magazine
The BBC unveils trailer for Ten Pieces
Beethoven's Fifth, Holst's Planets and Stravinsky's Firebird will come to life on the big screen
The Strad
International Violin Competition of Indianapolis announces all-female final
Five Korean artists and one American will perform two concertos each over the coming days
Classical Source
Secret Theatres: the Music of Harrison Birtwistle [6-8 November, University of Cambridge]
Secret Theatres: the Music of Harrison Birtwistle brings some of the most respected practitioners of contemporary music to Cambridge in celebration of Birtwistle in his 80th year.
Concerti
Vor 100 Jahren brach der Erste Weltkrieg aus – in Frankreich und Deutschland wird der Tragödie auch musikalisch gedacht
Codex Flores
Gewinner des Moskauer Geigenbauer-Wettbewerbs
In Moskau sind die Gewinner des Internationalen Geigenbauer-Wettbewerbs  «Violine: Selle und Gestalt» bekanntgegeben worden.
Klassik.com
Bratschist Fitz Gary erhält Auszeichnung des DAAD
US-Amerikaner wird für herausragende Studienleistungen ausgezeichnet
The New York Times
There's a Lesson Here; All You Have to Do Is Listen
Roger Nierenberg and the Music Paradigm Program
Twitter
The Royal Opera @TheRoyalOpera: Your reaction: Check out our round-up of tweets from the #BPbigscreens live relay of Rigoletto. Is yours included? ^E http://bit.ly/1mfIea8 
Royal College Music @RCMLatest: Congrats to RCM alumni named as #GramoAwards winners: Sir Neville Marriner (Outstanding Achievement) & @Sir_J_Galway (Lifetime Achievement)
Classical Music ‏@ClassicalMusic: Duncan Ward, 25, has been appointed principal conductor of @sinfoniavivauk from January, 'minimum initial contract of two years'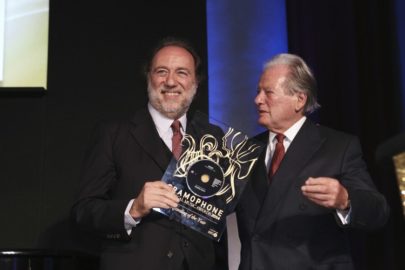 Sir Neville Marriner presents Riccardo Chailly with the Recording of the Year Award. Photo: Ben Ealovega