In today's news: Bryn Terfel has pulled out of the Met Opera's production of Tosca due to vocal fatigue, Composer Alexis Ffrench's approach to condensing compositions into three-and-a-half-minute tracks to make them more accessible and a requiem, composed by survivors of the Cambodian genocide. In addition, German musical instrument sector at its peak and a piano world record in Bosnia as symbol of unity.
The Telegraph
Composer Alexis Ffrench on why classical music can be as mainstream as pop
Through songs such as Bluebird and Radiate, Ffrench is attempting to break the preconceptions of classical music by condensing these kind of compositions into digestible three-and-a-half-minute tracks that feature recognisable song structures reminiscent of any modern day pop track.
BBC
Bryn Terfel is the latest star to quit Tosca
Bryn Terfel has pulled out of the Met Opera's production of Tosca, to take "enforced rest due to vocal fatigue".
Hollywood star is the co-prodocer of a new musical based on the hit New Wave girl group The Go-Go's.
Rhinegold
Wigmore Hall to celebrate learning programme with two-week festival
Inspired by Shakespeare's take on the seven phases of life, the festival will celebrate Wigmore Hall's ongoing community work, which encompasses projects for people of all ages.
Pitchfork
Why you should listen to John Fahey's Christmas music
This isn't a Christmas trifle; it's a Christian's prayer for a merciful exit, or at least a restart.
The Independent
Christoph Waltz moves from Tarantino to Verdi as an opera director
The Oscar-winning star of 'Inglourious Basterds' and 'Django Unchained' is directing a new production of Verdi's 'Falstaff' for Opera Vlaanderen in Antwerp, Belgium, and says, for him, film and opera aren't so different.
The New York Times
Genocide Survivors Compose a Requiem for Cambodia
Rithy Panh, a survivor of the Cambodian genocide under the Khmer Rouge, takes issue with the philosopher Theodor Adorno's famous claim that to write poetry after Auschwitz is barbaric.
pizzicato
Deutsche Musikinstrumentenbranche mit Rekordumsätzen
Laut einem Bericht der Kultur- und Kreativwirtschaft  des deutschen Bundesministeriums für Wirtschaft und Energie lag 2016 der Umsatz bei der Herstellung von Musikinstrumenten im betrachteten Zeitraum seit 2010 so hoch wie noch nie. Gleiches gilt für den Umsatz mit Musikinstrumenten im Einzelhandel.
Kulturradio rbb
20 Hände auf einem Klavier: ein Weltrekord in Bosnien
Die musikalische Aktion sollte ein Zeichen für die Einheit in dem gespaltenem Land setzen.
Musik Heute
Hindemith-Preis für Italienerin Clara Iannotta
Die italienische Komponistin Clara Iannotta erhält den Hindemith-Preis des Schleswig-Holstein Musik Festivals. Das teilten die Veranstalter am Mittwoch mit.
france musique
L'édition 2018 du Festival Présences sera consacrée au compositeur Thierry Escaich
Du 6 au 11 février 2018, le Festival Présences dressera le portrait du compositeur et organiste Thierry Escaich.
Twitter
Deutsche Grammophon @DGclassics "Silenced and forgotten owing to his tragic fate, his beautiful and unique works remain a reflection of turbulent times and a testimony to his personal tragedy." 'Silenced' by Orsolya Korcsolán is her approach to the tragic story of composer Sándor Kuti: https://DG.lnk.to/KutiKorcsolan 
Hallé Orchestra @the_halle December 14th 1941: Paper rationing and blackout regulations during the Second World War meant a tiny programme and a 2.30pm start for this Malcolm Sargent concert at the Manchester Opera House. #advent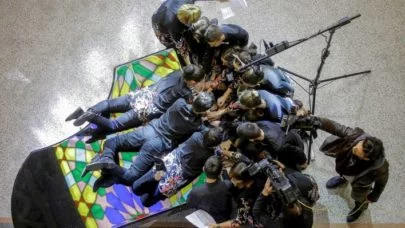 Image: © Kulturradio rbb/Samir Yordamovic